Movies
'Boyhood'
Richard Linklater's Boyhood took its time, filming its actors over 13 years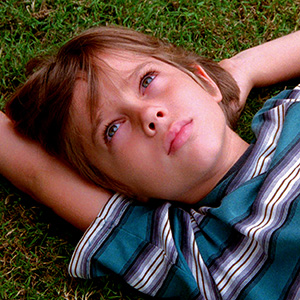 Like all really first-rate movies, Boyhood has many facets to admire. Just one of them is the unusual way it was made. Richard Linklater followed a small group of actors during the course of 13 years as an experiment. Mason (Ellar Coltrane) and his sister Samantha (Lorelei Linklater) live with their mother, Olivia (Patricia Arquette), with father Mason Sr., known as Dad (Ethan Hawke), dropping in for visits—and we see the actors age in their roles over the course of a decade.
It may be the last time something like this is done. The instant movie will always be more popular with experimenters; secondly, we can see from this how well a convention in fictional movies works, where a series of actors plays a child at different ages. Boyhood proves we're never the same people that we were when we were children. And it also proves what the old people always sighed about: "They grow up so fast."
Boyhood is different than the Seven Up series by documentary maker Michael Apted, which followed a group of British children for half a century—it doesn't have the overt sociological context. This is a 15-year-long story of a family that has some events, but avoids the big crises: no weddings, no funerals, no arrests, no sieges by cancer.
Boyhood becomes Mason's movie; as he grows from 5 to 18, he's in almost every scene. It may be that Linklater had something more family-focused in mind when he began; when Boyhood starts, sister Samantha is a delightful brat on the lines of Margaret O'Brien in Meet Me in St. Louis. She's anxious to show off her Britney Spears imitation, and when adolescence hits some 10 years later, she goes through a flamboyant stage—dying her hair fuchsia. By the end of this project, Samantha has gotten laid-back and secretive, with only one last flare-up: her mother, Olivia , proposes to move to a smaller apartment now that her nest is empty, and Samantha squawks: "I'm NOT going to share a room with him." In an earlier scene, Dad starts questioning her in a teasing way about whether Samantha has a boyfriend or not, scandalizing his daughter almost half to death with his talk about the importance of condoms.
Linklater is particularly acute with the rapport between Olivia and Mason during his 15th birthday (she forgot it), confronting him when he comes home a little buzzed—gently anxious as she looks up and registers that her son has grown taller than she is. It's a trick of this movie that Arquette and Coltrane do look related, and that Olivia is in some ways as mysterious as her daughter. The mom is not an underwritten role: rather, Olivia has that layer of privacy that her children can't get around. We learn right away how she sees herself, stuck with kids: "I was somebody's daughter, and now I'm somebody's fucking mother." It's recessive acting at its best—you can see everything David Lynch and John Boorman saw in Arquette, that reserve of power and the solitude.
Olivia is no paragon. She demonstrates Walker Percy's comment, which I'll have to paraphrase: "Texas women are goddesses, but they're bad judges of men." The movie starts after she's separated from the overgrown boy she married—a musician still living with a roommate in his 30s. Dad grows up in tandem with his son, but maybe has a harder time for it, trading his GTO for a minivan and growing a sad little mustache. Olivia is drawn to men who look like they have it figured out, but who turn out to be Republican martinets with personal problems. What Boyhood does is the way it establishes the decline of Bill (Mario Perella) the Houston psychology professor Olivia marries—he changes as quickly and blatantly as a temperance melodrama. A second husband is a three-tour Army vet who ends up in a lousy job, and spends his time trying to whip Mason Jr. into shape.
Boyhood is grounded in the cultural war—the first decade and a half of this century are in the background, the fight between freedom and discipline at all costs. And the Texas setting is part of that quarrel between lifestyles: Boyhood establishes that this is a state where you salute the Texas flag right after you pledge allegiance to the American one. It shows the election of Obama (a neighbor woman burbling about how she has fantasies of kissing him), while Mason celebrates his 15th birthday at his step-grandparent's place in the piney woods—his presents are a 20-gauge shotgun and a Bible with his name in gold on the covers and everything Jesus said in red letters inside; there's also a trip to church (a clip of a pretty good Baptist sermon on the subject of doubting St. Thomas). This visit to the red-state side of life is done with affection; imagine Linklater as someone else who'd like to be on the far side of these endless red/blue recriminations being able to visit the heartland in peace and to be welcomed there.
If there is such a thing as history too recent to remember, there's also such a thing as memories too beautiful to carry in the mind. Boyhood recovers them, or at least the memories like them, during Mason's first night with a girl, Sheena (Zoe Graham, who could be a star after this). Linklater restages a walk till dawn through Austin, as if this were the original version of Before Sunrise, lingering in an all-night cafe, before Mason and Sheena find a borrowed place to rest.
Boyhood is positively not so tender that it falls apart. What makes this such exciting filmmaking is the sense of humiliation in it—a tribute to the children who make it through, it recalls what a pain it is to be a dependent, being forced to go where you're taken. But it also recalls the surprise when something you've been forced into turns out delightful. Even bad-choice prone parents know something their children don't: the childish Samantha is acting out during one of the family's moves, doing that "goodbye house, goodbye trees" routine an acting-out kid puts on. Olivia snaps, "Why don't you say 'goodbye' to your horseshit attitude?" Dad's good matches his bad judgment; we can see what little hope he has as a musician when he starts up a bunch of self-therapeutic blues lyrics about his kids being gone and his ex-wife off with another man É right as his son is there.
Linklater is a constant student, gladly learning and gladly teaching, as is seen everywhere from Slackers to School of Rock. I'm not calling him sophomoric: the unforced confrontations, the passion for all-night talk and the passionate escape to university are almost painfully evocative. He has a great admiration for the college-town coffeehouse genius; we see one such in an all-night cafe in Austin expounding on the sidereal clock inlaid into Boulder Dam, put there to tell any visiting extraterrestrials what year the project was completed—Joan Didion writes all about it in the essay "Holy Water." Boyhood recalls the experience of college as dying and going to heaven; Mason's ultimate escape is Sul Ross State, in the Baja New Mexico section, of wide blue skies and sandstone canyons. Boyhood isn't a film about more than usual adversity. It's about education as a chance to become more rich or more powerful than your parents É only, perhaps, happier than they were.
165 MIN.; R