Movies
Seedy Roam
A scar-faced young hood hides from the law along the boardwalk
in adaptation of Brighton Rock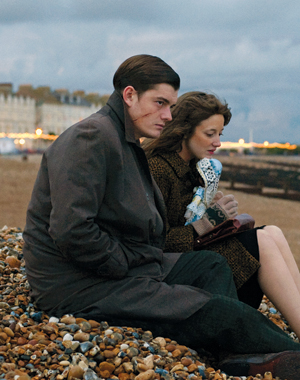 THE SEEDINESS, the clapboard hovels, the violent sunsets and terminal beaches of a seaside resort town make an intoxicating background for a crime film. And Brighton is queen of them all: the model for places as far apart as Australia's Manly to Coney Island to Santa Cruz.
Brighton Rock, adapted from the 1938 Graham Greene novel, has a poetic subject for the camera. It doesn't disappoint on the level of poetry, but the literalness is hard to credit.
The film tells the story of a razor boy's attempted rise to the top. Sam Riley, who plays the sociopath Pinkie Brown, is the best thing in the picture. The actor previously starred as the doomed singer Ian Curtis in Control; he has a wolfman's widow's peak like Leonardo Di Caprio and the too-niceness of Dennis Hopper.
Pinkie doesn't drink, and he doesn't like sex, but he doesn't mind slicing people up. One of his victims fought back, and now Pinkie has a large cut on his soft pink cheek. Brighton Rock starts in the middle of a gang war between rival protection rackets preying on the racetrack touts.
At the top sits boss Colleoni (Andy Serkis, demonstrating what's meant by "lip-smacking acting"). The Brighton police are passive on-lookers until things go out of control.
When Pinkie corners a member of a rival gang on the Palace Pier, a half-witted waitress named Rose (Andrea Riseborough) witnesses the scene. Pinkie figures that he could marry Rose and thus legally prohibit her from testifying against him in court. Rose falls abjectly in love with this killer. And since her father is out of the picture, the only one in Rose's corner is her boss at the teashop, Ida.
Tarted up with red henna, Helen Mirren is strongly miscast as Ida. Greene's novel describes a woman of complacent Cockney voluptuousness, a beery lady with the wit to look stupid. It's a cleavage part if ever there was one. Mirren's unearthly shrewdness throws the film out of balance; there's no common wisdom to counterpoint Rose's common-senselessness.
Director Rowan Joffe updates the story to 1964 to make up for the post-war changes. Pinkie's hovel is a veritable mural of mold. Rose's childhood home is a filthy council high-rise, with buzzing faulty wiring. Seeking ambient chaos for the background, Joffe takes some advantage of the mods/rockers battles of the day, saluted in the Who's rock opera Quadrophenia. As disappointed American fans saw in Franc Roddam's 1979 screen version of Quadrophenia, it's hard to match the operatic visions we had of this titanic struggle with what it really looked like: slicked-up Londoners on poofy Vespas whirring by, being gesticulated at by guys dressed like Elvis.
Brighton Rock has been filmed before, by John Boulting and starring Richard Attenborough (and hard to find on DVD). Tellingly, the 1947 version was titled Young Scarface in America. Novelist Greene's time as a film critic showed in the gangster subject matter. He took the real-life dealings of the local Sabini gang and then framed them with a bit of Hollywood and his own Catholic metaphysics. As the narrative leads to an ironic, Somerset Maugham–style miracle, Brighton Rock gives us the play of Good and Evil, boldly stated. "You're good and I'm evil," Pinkie says. "That means we're made for each other."
Can this evil run down to the soul's bedrock, as it were, legible to the very bottom, like the words "Brighton Rock" inside the stick of souvenir hard candy? It's a question movies like to rephrase as: Do some people belong dead, no matter how charming we find them? This Brighton Rock is caught between being a piece of candy and spiritual nourishment.
What persists is the view of the false seaside glamour, like the sweating face of a painted-up consumptive: the Christmassy party lights on the pier glowing against a promise of heavy rain, starling swarms about-facing over the deserted beach and Riley's embodiment of sharply dressed and spotlessly combed mania.
Riley is what makes the movie as interesting as it is. His entrapment is seen visually in one perfect image: him trying to rub out a spot of cigar ash in a white plush carpet with the toe of his shoe and just spreading the stain wider.
Brighton Rock
Unrated; 111 min.
Opens Friday, Camera 3, San Jose