Movies
Bullet to the Head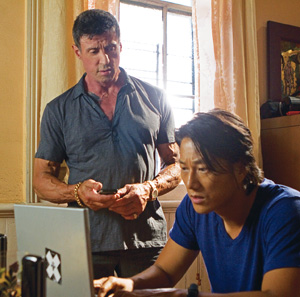 It is likely that Sylvester Stallone, now in his mid-60s, has killed more people onscreen than anyone else in the history of cinema. The question of how this carnage has affected him morally is played with and then discarded completely in Bullet to the Head. The victims don't matter—they all deserved it. Stallone's physical erosion looks oddly authentic; Stallone's plastic surgery makes him appear as if he has had the tar beaten out of him for 30 years. He wears a short, fuzzy widow's-peaked toupee like the one John Travolta often sports; it looks like the hide of a tennis ball. When he's on the warpath, he has an underslung jaw and a Popeye squint. The voice is deep and laden with doom. It is without quaver.
The phenomenal Walter Hill directs Bullet to the Head; the script is pure Cannon Films, but Hill delivers this cop/criminal buddy film with brio and pleasure. Wish there was more to be said about Sung Kang, who plays the cop. There's so little going on with him that you expect he must be a kung-fu expert, but this isn't the case.
New Orleans showed more skeeviness in Killing Them Softly, but there's enough soggy rottenness and rust to go around, not to mention Mardi Gras parties where lesbians tango topless. The villain (Adewale Akinnuoye-Agbaje) is named "Morel," perhaps a way of casting aspersion on the city's mayoral Morial clan. Morel walks on two canes like Everett Sloane's character in The Lady From Shanghai. Tottering forward, he informs his henchman: "In classical literature, the hero dies."
Will this be the end of the Italian Stallion? It certainly looks touch and go. A terrific wrestling fight takes place beside a cavernous indoor swimming pool (they apparently still have heterosexual steam baths in New Orleans)—when Stallone bares his shoulders, the interior is illuminated by a riot of neon tattoos. There's a reason he's marked. The subplot tells us that the woman in his life is his beloved daughter, Lisa, an old-school tattooist played by the curvy Sarah Shahi.
The finale is an expertly choreographed axe battle with the towering Jason Momoa. The film could be summed by its product placement for Bulleit Bourbon, treated like a rare luxury when it's actually $20 a bottle at Trader Joe's; Hill serves this inexpensive, everyday material with a serious flourish.
Bullet to the Head
R; 91 min.