Movies
'Chef'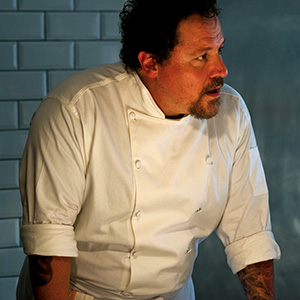 On one level, Chef is harmless food-erotica about Carl Casper, a hard-working chef (director/writer Jon Favreau) who needs redemption. He sweat-equitizes a filthy food truck and finds fame selling Cuban pork sandwiches, while bonding with his cute son who has the bully-bait name, Percy (Emjay Anthony). He, Percy and sidekick (John Leguizamo) road trip. Twitter (which must have provided what the game shows call "promotional consideration") heralds the van as they drive.
Though Casper lives in a drywall-lined apartment in Venice, he was once the man of a humungous Brentwood house, with gardeners and housemen stooping in the background. Ex-wife (Sofia Vergara) encourages Casper to find himself, heedless of the alimony payments high-living ex-wives raising children like to receive. But there's another girl in the picture: Casper's hostess, Molly (Scarlett Johansson) oddly disguised as Krysten Ritter from Breaking Bad.
What is the movie really about? In the first half, it's about a chef É no, a renowned movie director who made a film that flopped. Let's guess it was that persistent companion of the airline traveler, Cowboys and Aliens. (Paul Dano was named Percy in that movie.) In Chef, "the world's most important food blogger" (Oliver Platt, pulling his Jesting Pilate face) slams the restaurant, and calls Casper fat, though Platt's pretty chubby himself. Then WMIFB announces his plans to go to Casper's restaurant and re-review it: all this in defiance of every code of restaurant reviewing. This is all so Favreau can stage a long scene screaming at a critic who knows nothing about his business. Meanwhile, more career agony, as restaurant owner Dustin Hoffman talks like a producer trying to force a director's hand: "if you went to see the Rolling Stones, you'd be disappointed if they didn't play `Satisfaction'."
I can't get no. Compare Chef with Ratatouille, which insists there are times when a critic takes a bullet for a real talent. So become an indie director, promote the work through social media, and get famous friends to cameo, such as Robert Downey Jr. providing a hilarious five minutes of double-talk. Ultimately deliver a movie that looks like an indie, is packaged like an indie, but which is a softball televisionistic feel-good whine. Favreau should have cast the tougher Vince Vaughn, so we'd feel some dramatic unease about the choices Casper made. Favreau's artistic rebellion is mixed-metaphor clumsy: a cuddly teddy beating a straw man.
Chef
R; 115 MIN