Movies
Cinequest Preview 2013
Cinequest returns in late February with guest stars, foreign features, local heroes and a new role for audiences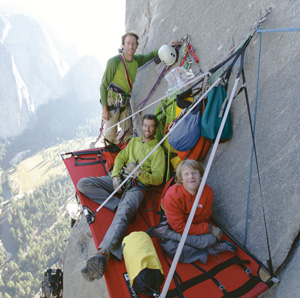 Harrison Ford and Salman Rushdie, two names with a lot of history, are the special guests at this year's Cinequest (Feb. 26–March 10). Yet the long-running San Jose film festival aims at the future by making the audience the stars and the arbiters.
Founder Halfdan Hussey promises the most interactive festival ever. Rather than having a jury select the prize-winning films from among the nearly 300 offerings, the viewers will pick the winners of two cash prizes: $25,000 each for best documentary and best feature film.
More than ever, the festival will be wired up so that the audience can recommend films via the improved Cinequest website.
For enhanced user-friendliness, the festival is dividing its films into seven categories designated with emoticons. "What do you feel?" is the motto. Viewers in a certain mood can seek out films marked in one of the following categories: "Celebration," "Innovation," "Inspiration," "Thrills," "Laughs," "Life," "Love"—unfortunately, no "All of the Above, Plus Plane Crashes, Lingerie and Samuel L. Jackson Speeches."
Cinequest continues its role as a showplace for local filmmakers, some of them the end result of filmmaking classes at De Anza and SJSU (as with festival favorites like Super Hero Party Clown and All About Dad in past years).
This year's local offerings include San Francisco filmmaker Sara MacPherson's Stable Life, a documentary about paperless immigrant workers at Bay Area race tracks. Former area-men Christophe Folino and Todd Burrows based their film Sparks on the first graphic novel made expressly for iPhone: a film noir–style superhero drama with William Katt, who once starred on TV in the early-1980s Green Lantern parody The Greatest American Hero.
Cinequest saw the potential for digital film years ago, back when all that many film fanciers could see were scaly, trembling pixels and urine-yellow halos on the actors' heads. This year's festival selections are almost all digital—rare exceptions include Thomas Farone's at-last-completed Aftermath, the film that actor Chris Penn ("Nice Guy Eddie" in Reservoir Dogs) was working on when he died suddenly.
Also hanging on to 35mm are the not-to-be-missed revivals of silent films: Harold Lloyd—the 1920s avatar of Spider-Man—in Safety Last, and Buster Keaton's deathless slapstick comedy Cops. Several memorable films get a refurbished look thanks to Sony's 4K digital projection system, which will be demonstrated with screenings of Taxi Driver, Dr. Strangelove and Lawrence of Arabia.
"Picture the Possibilities" is a way of lending the power of filmmaking to disadvantaged young people, this time in Beijing, Mexico City, Jakarta and Cambodia. The results of the kids' work will be displayed along with an onstage conversation with young filmmakers. This year, Hussey is releasing a book titled The Seven Powers of Creating, detailing his seven-step program to help children find their artistic potential.
Opening the festival is Sally Potter's Ginger and Rosa, a drama about two girls coming of age in early–'60s London. Celebrated author Rushdie will appear on behalf of the closing-night screening of Deepa Mehta's adaptation of Rushdie's novel Midnight's Children.
The Kaiser Thrive presentation is Wampler's Ascent, a documentary about a climber with cerebral palsy who made it up the face of Yosemite's El Capitan. That entry leads us to a partial roster of the documentaries, always a strong subset of Cinequest: The Believers concerns scientists who believed that they had discovered a frictionless source of energy in the form of cold fusion. The Year of the Living Dead tells of George Romero's invention of the gut-munching zombie movie.
The festival also presents a lavish selection of foreign films. One of the most anticipated is Icelandic director Baltasar Kormakur's The Deep, based on the true story of a fisherman's struggle to survive in the waters off Iceland after his vessel sank. It surpasses any issue of Aquaman comics, not that that's saying much. The Deep made it to the short-list for the Best Foreign Film award at the Oscars.
Regulars know what a big deal Cinequest is, but for first-timers it's a particularly overwhelming experience: more than two weeks of celebs, shock, excitement, amusing self-importance, hurt feelings, mobbed receptions, the flash of klieg lights, the rumble of food trucks and maybe the debut of a masterpiece or two. More here shortly. (Full Disclosure: Metro is one of the sponsors of the festival.)
Cinequest
Feb. 26-March 10
www.cinequest.org