Movies
Cosmopolis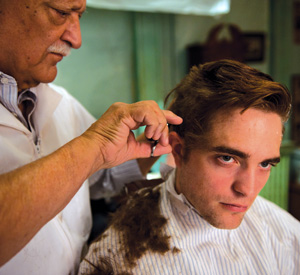 David Cronenberg's talky but brilliant adaptation of Don DeLillo's novel Cosmopolis feels like the future, the way The Dark Knight Rises was supposed to feel. The first shot is of the rictus of a huge limo's grille. Cronenberg's camera sidles past it and coasts along the vehicle's shiny, mile-long side. Inside, a bubble of dead sound envelops the unimaginably wealthy hypochondriac Eric Packer ( Robert Pattinson) of Packer Capital. Pattinson, poreless tween heartthrob, has been seasoned a little. He now has a retro-futurist look, like those hair-oiled replicants on the cover of a Kraftwerk album.
Eric spends most of a long day in the limo driving at parade-float slowness through the impassable streets of New York. Traffic has come to a halt. The anarchists are in town, brandishing their totemic dead rats. The president is visiting, too. Whether the crowd is there to admire him or shoot him is, at this point, immaterial.
The dead sound inside Packer's limo is explained—he had the vehicle "Prousted" (lined with cork) to keep out the street noise. Eric picks up his tricks and his employees as he rides; the difference between them is only semantic. Sometimes along for the ride: an art dealer (Juliette Binoche), with an American rasp in her Frenchless accent; Samantha Morton as a more astute oracle than the one she played in Minority Report; Sarah Gadon doing an expert emulation of a Hitchcock blonde. Gadon plays Eric's wife in an unconsummated and perhaps unconsummatable marriage. In between pickups, Eric learns the bad news. He's no longer teetering on the top of a wave of money. He's about to fall with the wave as it curls and crashes.
Cronenberg's gift, as always, includes a subtle and all-pervasive atmosphere of distortion and an oncologist's sense of humor. The director's attitude toward the future is the same attitude a doctor in Cosmopolis has regarding a possibly precancerous mole on Eric's ribcage: "Let it express itself."
The downside is that the theatrical element Cronenberg lent A Dangerous Method returns. Cosmopolis devolves into a play in the last 20 minutes, when Paul Giamatti plays Benno, a furious victim of Eric's policies. The speeches sound too much like speeches. However, they're urgent, intelligent speeches about the almost living malice of hypercapital. Cosmopolis is something like the anti-matter version of Atlas Shrugged.
R; 108 min.