Movies
Dark Shadows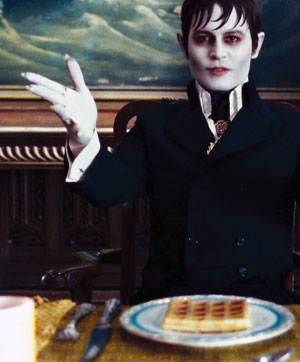 It doesn't live fast, but Tim Burton's Dark Shadows leaves a beautiful corpse. The clown-white makeup on the haunted Collins family alone gives this pulseless reboot of the TV show the look of something the mortician pumped up and propped up. Seth Grahame-Smith's wretched script bypasses everything that gave the Hawthorne-ish soap opera its memorable style.
The chained-up coffin of the early-American vampire Barnabas (Johnny Depp) is opened by a crew of workmen. He returns to his native estate, Collinwood, on the storm-wracked coast of New England. Soon, he re-encounters the woman who betrayed him, the still-living witch Angelique (Eva Green).
Dark Shadows is actually about a group of depressed misfits who need parental order. Posing as "Barnabas Collins III,' the vampire coaches his feuding family. A well-preserved Michelle Pfeiffer takes the Joan Bennett role as Elizabeth; hard-drinking shrink Dr. Julia Hoffman (Helena Bonham Carter) tends to poor neglected young David (Gulliver McGrath). And there's the Lolita-like 15-year-old niece, Carolyn, played by the very good Chloe Grace Moretz, whose sensible plan to steal this formless movie keeps getting thwarted by Burton.
Dark Shadows goes unusually dirty, with Depp and Green's re-creation of the Jeff Goldblum/Emma Thompson room-wrecking sex scene in TheTall Guy. To enjoy this, one must presume that 1972 was the most hilarious time ever. The fish out of water keeps gasping: "How would a guy from the 1790s respond to TV? What if Scooby Doo was on that TV?' The actresses fan their whiskbroom-size false eyelashes. Danny Elfman unloads a Dumpster of oldies, primarily sugar-frosted cheese by the Carpenters.
Heavy exposition stresses how the characters feel for each other. Burton may not seem to have directed the actors, but he's certainly filling his function as cinema's most famous set decorator. He is Burton, so there are a couple of arresting visual ideas: Angelique's glamour is only as thick as an eggshell, for instance.
Set pieces include a fancy dress ball at Collinwood. Wastrel Roger, played by Jonny Lee Miller, works that double-entendre about "ball' for a few minutes. The crowd goes crazy; they never heard that one before. The true highlight is Alice Cooper, given a digital skin-peel, performing "The Ballad of Dwight Fry.' Praise to Cooper for going legitimately scary. The silent cameo by the real Barnabas, the late Jonathan Frid, says it all—sometimes, the disdain is so thick you can't find the words.
PG-13; 113 min.