Movies
The Deep Blue Sea
Terence Davies resurrects the restrained romantic drama with 'The Deep Blue Sea'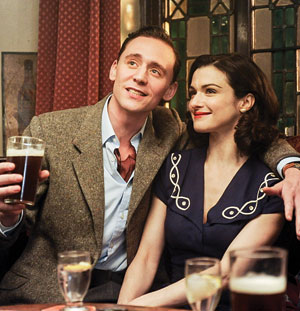 My taste for English desperation might have come from all that rock music I soaked up—and the stoic pessimism underneath it. It's such a savory counterpoint to the go-getter spirit they try to whack into American children.
Few have illuminated that desperation as well as director Terence Davies in his classic 1988 film Distant Voices, Still Lives. Davies' first feature in 11 years is The Deep Blue Sea (recently screened at Cinequest).
In the grim, strictured and shortage-prone England of 1950, a judge's wife, Hester (Rachel Weisz, never better), is on the verge of suicide because of her hopeless love for a former RAF pilot, Freddie (Tom Hiddleston).
We enter the story at what seems like its endgame: Hester is stuffing towels into the door frames of her room, feeding shillings to the gas meter and swallowing pills, just to make sure she won't wake up. She is interrupted, and it's a lucky thing for her that she isn't arrested for trying to kill herself.
She is still pale from the attempt when her husband, Sir William (the gentle, hedgehoggish Simon Russell Beale), shows up for a visit. The old man still loves her and refuses to grant her a divorce. Sir William asks his wife: "How could you throw away so much for so little?" In fact, Hester is "throwing it away" for physical passion, which surprises her as much as it does her husband.
The affair is essentially over, though Hester is still struggling. Memories taunt her of an early sight of Freddie, looking handsomely uncomfortable and weakly attractive in a double-breasted suit and an ascot, standing on the terrace of a country club.
Davies shuttles in time to the night of the last confrontation, with Freddie at a dimly lit pub, jawing about the war with some buddies; in the crowd, Hester burns for him.
Hiddleston is successful at sinister roles (he's reprising his Loki, god of treachery, in the upcoming Avengers movie). But Freddie isn't a one-dimensional cad, even though he's not above taunting Hester about her class, reminding her that his level of people saved her level of people from Hitler.
The Deep Blue Sea is based on a Terence Rattigan play; 2012 is the centennial of the British playwright of discontent and forbidden love. The 1994 film of The Browning Version suggested that there wasn't a place for Rattigan's brand of repressed drama in modern cinema, but one reckoned without Davies, who can rival Max Ophuls in his ability to achieve visual density in the semishadows of night and fog—to record the golden flare of a woman's wedding ring in a flat about to be filled with coal gas.
Rather than rendering the story overly artificial, the remarkable sets make it come alive: the clouds of blue tobacco smoke, the walls of Hester's flat and the cheerless hearth (Davies advances the camera slowly into its hissing maw).
Outside, the trauma of the Blitz is still fresh. Corrugated iron is wrapped around the yards of bombed-out houses. The windows of a tobacconist shop are so detailed that it's like a London version of the constructions of Los Angeles artist Ed Kienholz.
Because Davies and his superior cast have such a handle on this material, the humor doesn't break the frame. Bedroom-bound, Hester says, "They can't ration everything," And there is a definite figure for contempt in the story: Sir Williams' gorgon of a mother (Barbara Jefford) who has it in for Hester.
One must agree with Hester, who says that "tragedy is too big a word" for her suffering. The Deep Blue Sea has a well-developed cerebral side, but the film will remind you of every time you uselessly tried to out-think a case of being in love with the wrong person.
Because Davies' work is so immersive, he has surpassed the many attempts to revive this kind of restrained romantic drama, such as The End of the Affair, Atonement and Far From Heaven. Without being recognizably old-fashioned or cornered by clich–s, Davies has created another tribute to the lived-in movies of his youth, by adding to them the urgency of real art.
R; 98 min.