Movies
Delicacy
The new French romance Delicacy reveals the tartness
behind Audrey Tautou's sweet smile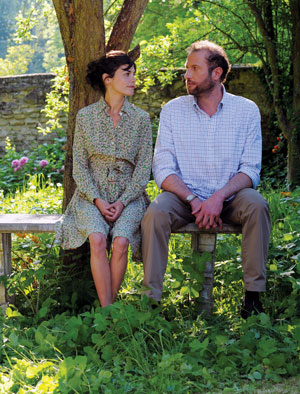 Some critics have been working this point very hard, so note that Audrey Tautou's pixieishness isn't all there is to Delicacy. The film does come out of the gate very badly, when it seems as if all it's going to be about is the bland happiness of a Parisian couple.
The man and woman play that game of not knowing each other at a bar, before sauntering off together. Later, the camera whirs around them as they stand in a public square to reveal them in the ritual clothing of a bride and a groom. There's no strife with their in-laws, and they chat about that, too; when they end up in bed, they do so under a poster of John and Yoko.
Soon, however, Nathalie (Tautou) is widowed under circumstances that are more of a shock to her than they will be to the audience. Let's just say we're well prepared for it.
Some time passes, and Nathalie works her way up at a Swedish-owned firm; what the company does is vague, but it may be cultural, since there are posters for Bergman films on the walls. Charles (Bruno Todeschini), the director general, offers in the nicest way possible to get closer. Nathalie rejects the proposal deftly, and not just on the grounds that Charles is married.
Seemingly having locked up her emotions, Nathalie surprises us when she kisses the most unlikely man in the office. She makes the kiss while distracted—it's Delicacy's key moment of resistible cuteness. We haven't really noted Markus (Francois Damiens) before; it's as if Nathalie had passed down the pass her boss made at her to the first underling she encountered.
That's when Delicacy changes into something interesting and touching. Damiens' Markus is notably homely, and his hair won't be around for much longer. He wears earth-toned rugby sweaters with vertical stripes. His wincing wide-toothed smile resembles Wallace in the claymation cartoons. Markus slouches apologetically because he's so much bigger than the French people around him.
The strangeness sticks to him; a shot of him visiting his relatives is like spying on a cave of shaved bears. Some people haven't figured how to talk to him. A female co-worker, who doesn't know Marcus, tries to make conversation by saying it's a tragedy Stieg Larsson died before he could enjoy his success.
Markus' lack of artifice attracts Nathalie. Charles the boss takes her to a crimson-tinged crypt of a restaurant that looks like the Masque of the Red Death; there in the gloom you can see older executives squiring their younger mistresses. Markus takes her to a Chinese restaurant with plastic tablecloths and dead ducks hanging in the window.
Damien takes the too-chicness away from Tautou—he finds an edge on her and strikes up displays of that wounding sharpness that wit tries to conceal. People call Tautou a pixie. But she's also monkeyish, in the way Humbert Humbert meant when he called Lolita that—she's small, nimble and dark, and a little surly.
It's fair to suggest a woman who had grieved heavily would need to get back in touch with her girlishness. The script notes Nathalie's childhood love of Pez candy. We note that Nathalie lives on a street named after little birds.
First-time directors David and Stephane Foenkinos are dealing with an older Tautou than the one from Amelie, the one who was heralded as the second coming of Audrey Hepburn. Tautou never seemed physically ripe before; for that matter, she never really seemed to have a body before. The directors have a feeling for physiques: Charles' secretary Ingrid (Audrey Fleurot), who dresses in skintight, lipstick colors, is always surprised in some weird yoga contortion reaching for a file or frozen in an odd position waiting for orders from her boss.
Delicacy is a pluralistic film, or it's meant that way. Obama himself encourages Markus to pursue Nathalie, if not in so many words. We see him on television, telling a North Carolina crowd, "This is your time!" and Markus gets the message. American presidents are usually not encouraging figures in French films.
Maybe this is why the finale left me slightly cold. After suggesting and applauding the novelty of a trans-European courtship, Delicacy heads back solidly into the traditional. The countryside, a walled garden and a black-clad granny are brought in, as if the surroundings will make an outlandish Swede an honorary Frenchman.
PG-13; 108 min.