Movies
Dog Sweat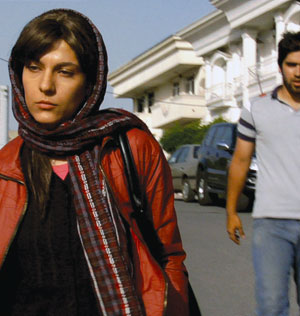 THE Persian expression for moonshine is "dog sweat," the illicit booze they still drink in Iran, despite "the committee," that ever-prying morality police. On Thursday (Feb. 23) at Camera 3, director Hossein Keshavarz will screen his feature film Dog Sweat, about a group of young people in Teheran.
Keshavarz says his film has an Altman-like structure: "Some of the characters are looking for bootleg liquor. But all of them are searching for freedom. A young couple is trying to find a place to make out, and a gay man is trying to get away from his family's pressure to marry a woman."
There's a circle of underground filmmakers in Iran. Keshavarz, a New Yorker of Iranian descent, met them during his trips there. "Most of my friends there are actors and filmmakers," Keshavarz says. "They make interesting shorts, though they didn't bother to try to release them. My producer and co-writer, Maryam Azadi, had the idea that we could write a film together and make something that was very close to their lives. We had to be very precise about what we wanted to get and about whom to trust."
Keshavarz got Dog Sweat out of Iran on his hard drive; since then the film has been shown at more than 30 film festivals. "It's interesting to see the film in places where you wouldn't think there were Iranians, places like Sweden, Bulgaria or Japan.
"When I go to Teheran," Keshavarz says, "I have fun—I always feel New York is quiet compared to it. I've always wanted to make a film that's an alternative to the way the Western media shows Iran as a threat. I also wanted to make it as an alternative to Iranian films. Because of censorship, they don't really show the way people live. They make idealized films about the family, traditional lives in villages or stories about children."
Still, that doesn't stop most Iranian films—take A Separation—from tackling complex narratives with sophistication and subtlety. "All I can add to that is that Iran is very focused on poetry," Keshavarz says. "Our national heroes are poets. One of them, Rumi, is known around the world. There's a similarity between poetry and film: A poem doesn't try to tell everything, but it does try to create understanding."
Dog Sweat
Thursday, 7:30pm
Camera 3, San Jose