Movies
On the Road
Ryan Gosling's taciturn getaway driver tries to make left turns cool in Drive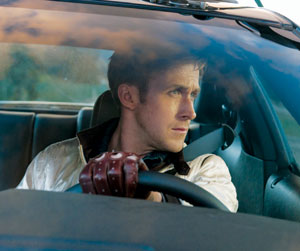 SEVERAL different kinds of cool, Drive is. But like much cool, it is mannered. The film is based on a sliver of small-press, second-wave pulp by James Sallis. Nicolas Winding Refn, a New York/Danish director with a trail of gory actioners (Bronson, Valhalla Rising), works from a tone-raising script by Hossein Amini (Wings of the Dove). Refn sources the complete works of Michael Mann(ered), even unto the hot-pink New Wave font of the titles and the buzzing of post-Moroder pop on the soundtrack.
The paint jobs on the getaway cars have more layers than the script. Mannered, too, is the style of Driver (Ryan Gosling) with the leather gloves he sports, the toothpick he masticates, the jacket he wears with the emblematic scorpion on the back, which ought to make him easy to identify by the cops.
Driver delivers a little monologue about what he'll do for you and what he won't. As your getaway driver, he will give you exactly five minutes, and he won't carry a gun, and he won't talk to you before or after. The second time you hear this litany, you supply the rest: "And if it takes more than five minutes, the pizza is free."
Pauline Kael once called Mann's Thief and Walter Hill's The Driver "forays into anonymity." Drive is just such a trip. Driver's apartment is bare. By day, he is an occasional stunt driver for the movies. By night, he outruns or outwits the LAPD.
Five years before, he turned up at the mechanic business of Shannon (Bryan Cranston, with a limp); he works there legitimately and uses the cars on getaway jobs.
Shannon's intimidating business associates are two aging thugs played by Albert Brooks and Ron Perlman. One day, Driver notices his neighbor, the small-boned Irene (Carey Mulligan), a hard-luck waitress married to a felon (Oscar Isaac) with bad debts.
Taking on her problems gets Driver into a lethal mess.
Gosling displays microscopic subtleties and cold-blooded wrath. In a movie about driving around with criminals or cops behind you, that might be enough. The film justifies its conceits with repeated sequences of taut action.
The pretitle drive goes nigh-POV through the windshield as Driver hides from the police. A game of tension is played out against negative space in the parking lot of a San Fernando Valley pawnshop. And we also get an elegant three-way tango in an elevator with Driver, Irene (let's call her Girl) and Gunman, in which Refn has Driver push Girl gently into a sweet, fulsome patch of golden light.
As Bad Girl—she's called Blanche—Christina Hendricks makes an unfulfilled promise of fleshy appeal. One doesn't get the sense that Refn is anymore of a sensualist than Mann himself, particularly when the director stages a beating in front of a line of topless dancers, every bit as expressionless as Driver himself.
Yet Drive is as sentimental as it is brutal. After refusing to stick his neck out for anyone, Driver turns into a complete giraffe. All it took was the sight of Girl's Little Boy. And common-senselessness is common here. Among its characters are a very experienced middle-aged wiseguy who puts a murder weapon in a place of honored display in his living room.
Maybe readers of Elmore Leonard will know what I mean when I say Drive is a movie where people do what they do in the movies. Coincidence is rife. (Sallis set the original book in Phoenix, which likely has a more small-scale underworld.)
Perlman makes a fine modern Neanderthal—the kind of oaf who brings about a half-dozen well-dressed whores to a greasy pizza parlor. Even better is Albert Brooks. His career-long personal of comedic self-absorption makes him well suited for the bloody role.
The shot of him sinking into his sofa after one hard but almost elegantly executed job is one of the high points of the movie year, let alone of Drive. This moment with Brooks has something Drive doesn't quite establish convincingly elsewhere—both the necessity of crime, and the stink that comes off of that necessity.
R; 100 min.