Movies
Interview: Elliott Gould
Elliott Gould, Maverick Spirit winner, translated a
dancer's ease into memorable screen characters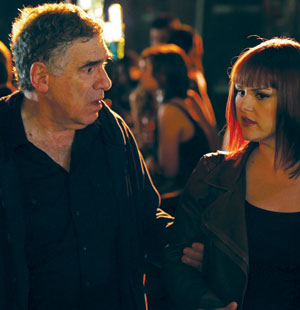 Elliott Gould once described his method as an actor: "I live what I do, but I was a tap dancer." Gould, who comes to Cinequest to receive a Maverick Spirit award on March 2, was (noted critic J. Hoberman) the youngest actor to make it to the box office Top 10 since Elvis.
Gould's appeal seems obvious. Over the decades, the seeming effortlessness of the dancer yielded to portrayals of men with warmth and humane shrewdness.
He was the ailing heart at the center of the hit Ocean's Eleven movies, and a regular on TV's Friends. But when considering the best work of his heyday, you come back not to his hit role as the battlefield surgeon Trapper John in Altman's movie M*A*S*H but to his slightly haphazard Philip Marlowe in Robert Altman's The Long Goodbye (1973)—without this film, there would be no defective detective Lebowski; watch and learn.
Gould's new film, Dorfman, by Palo Alto's Brad Leong, is playing March 2, 4 and 6 at Cinequest. I asked Gould if the subject of the renaissance of downtown L.A. had attracted him to the film.
He retorted, "Well that's not what the movie is about! It's about Sara Rue's character renewing her view of life, and of nature and relationships. It's nice to have Los Angeles in it. But what I brought to it was an old actor with a lot of experience and love in my heart."
His favorite scene?
"The scene where I'm outside, sitting on the bench. The father tells the daughter she has to be able to think of herself and she deserves to have a life, that there's nothing wrong with her. He's had somewhat of a closed mind and a closed heart up to that point."
Gould went on to tell me, "I love to work, I'm very grateful for any opportunity especially at this time.
"Ego and vanity are very toxic. A grain of pride is good for the heart, but more than that is blindness. Not wanting to be a hypocrite, I have had to accept my own ego and vanity. Whatever parts I can get are based on what people think of me, and if they're interested in my work."
He continued, "Sometimes, we can be typecast. The character I played on Friends was a stereotypical character: it worked famously, but it needed to be somewhat to be stereotypical and two-dimensional. I didn't think that I would do it, and then I saw what Jim Burroughs was doing with the show."
Though he's still a hardworking actor years, Gould's performance in The Long Goodbye is worth the revisit.
"For a while it was my favorite film," he said. "I wouldn't have gotten to do it if Robert Altman hadn't taken it over. UA sent him the script. Altman called me from Ireland where he was shooting Images and asked me, 'What do you think?' I said, 'I always wanted to play that guy.' He said, 'You are that guy!'"
I told Gould that I saw The Long Goodbye the day it opened, back when I was a young kid. I had no idea how much I'd love it 39 years later.
"I saw it screened with Leigh Brackett at Grauman's Chinese Theater," Gould recalled. "She wrote the script for The Big Sleep. She was the first to note how the book had changed the ending, and she said the film had broken the mold. I was making Busting with Robert Blake, a film directed by Peter Hyams, and Peter said he hated it. And [then Los Angeles Times film critic] Charles Champlin destroyed it."
In Gould's view, "The studio didn't know how to present it. It was against the grain. Nobody's been able to get close to The Long Goodbye. Altman's original plan was to remake everything of Chandler, one book every two years. It didn't happen."
The movie is definitely on Gould's mind. "I'm still trying to make the sequel to The Long Goodbye but I can't find a nickel to make it!" he said. "The sequel would be based on a short novel, The Curtain, a book written before there was a Marlowe. We worked some time with the Chandler estate, and they sold me the rights to the book for a dollar. Altman and I started to talk about it—the concept for it, bringing Marlowe into the present, having him old and arthritic. The title would be It's Always Now.
"Alan Rudolph wrote a script, which I haven't transposed yet. I'd like to do it in a way we've never seen the character of Marlowe before. The values don't age."
Elliott Gould award presentation
March 2, 9:30pm, California Theare
Dorfman will be screened