Movies
Fall Film Preview
Fall brings an array of films based on books—and board games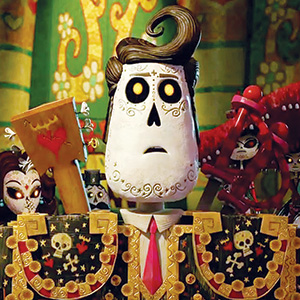 The noticeable trend this fall seems to be adaptations—sturdy books and page turners alike. Jason Reitman adapts Chad Kultgen's novel Men, Women and Children (October) about the Internet's caustic effect on a family—stars Judy Greer, Ansel Elgort and Adam Sandler in a small character part. Kill the Messenger (October) stars Jeremy Renner as Gary Webb, a San Jose Mercury News reporter chased out of his job by editors and maybe even shadier characters than editors, after having discovered that the CIA was in bed with cocaine sellers. The complicated business has been oversimplified in the conspiratorial mind ever since. Based on Webb's book, Dark Alliance, and Nick Schou's Kill The Messenger.
With Gone Girl (Oct. 3) David Fincher returns. Rosamund Pike vanishes and Ben Affleck sticks around—where's the fun in that? Apparently, lots, when revelations arise of how the two gamed each other in this drama based on Gillian Flynn's mordant bestseller. A Polanski—esque look at Missouri's mini-mansions White Bird in a Blizzard (September) is Greg Araki's first film in four years; it's similarly about a vanishing lady—a sinister mother (Eva Green) sought by her daughter (Shailene Woodley). The Joyce Carol Oatesean writer Laura Kasischke (The Life Before Her Eyes) wrote the source.
Interstellar (Nov. 7) is Christopher Nolan's reasonably realistic look at space travel (aided by a provident wormhole) as the earth dries up into a global dust bowl. Matthew McConaughey, Anne Hathaway, Jessica Chastain, Bill Irwin, Ellen Burstyn and Michael Caine are involved in the exodus. The Equalizer (Sep. 26) "Curse you, McCalllllll!!": some villain, falling off something. Chloe Grace Moretz meets Denzel Washington in the Edward Woodward role in this TV show revision.
Fury (Oct. 17) Germany. The Big War. April 1945. Brad Pitt has a Sherman tank and he plans to use it. Sounds good, though Pitt's name in the film—"Wardaddy"—smells like anachronism.
The Boxtrolls (Sep. 26). While Pixar waits for the bounce-back from its doldrums, Portland's Laika Studios amazes—here's their third feature, based on Here Be Monsters by Alan Snow. Dateline: Cheesebridge, England, where a bunch of kindly subterraneans are raising a boy. Big Hero 6 (Nov. 7) is Disney's attempt to go semi-anime: in "San Fransokyo" a boy with a large, soft robot assembles a crime-fighting team. The Book of Life (Oct. 17)—the one with the animated calaveras—is a kind of Latin Orpheus story co-produced by Guillermo del Toro.
Though it has skeletons, it's not to be confused with The Skeleton Twins (Sep 19) which has terrific advance word: Bill Hader and Kristen Wiig as a pair of estranged siblings reuniting after 10 years—he, a gay actor who bottomed out in L.A., she trying to be a mommy despite significant doubts. A Tina Fey/Justin Bateman family feud comedy called This Is Where We Leave You opens the same day. Skeleton Twins wins the trailer contest.
A Walk Among the Tombstones (Sep. 19) finds Liam Neeson as a private eye without portfolio who agrees to help a heroin dealer track down the men who savaged his wife. Sturdy mystery writer Lawrence Block provided the source book. The Judge (Oct. 10) has Robert Downey Jr. as a self-destructive lawyer who is forced to help the father (Robert Duvall) he hates. In The Theory of Everything (Nov. 7), Stephen Hawking (Eddie Redmayne) courts a fellow student (Felicity Jones) and then, tragedy and triumph. Director James Marsh also made the excellent Man on Wire.
Hunger Games: Mockingjay Part 1 (Nov. 21) has more panic in Panem—now up in arms against their cruel and over-dressed dictators. The Maze Runner (Sep. 19), based on James Dashner's book, stars Dylan O'Brien as the maze-trapped victim—or benefactor?—of the mysterious organization called W.C.K.D.
God Help The Girl (Sep. 12) is Belle and Sebastian's semi-autobiographical story directed by Stuart Murdoch (the Sebastian in question). In This Ain't No Mouse Music (September or October), Chris Strachwitz of El Cerrito's landmark Down Home Records store is a figure of great stature in the song-hunting world; this is his story. The Last of Robin Hood (Sep. 6) features Kevin Kline as the dissipated end-stage Errol Flynn, in love with an under-aged protege (Dakota Fanning). No Good Deed (Sep. 12): Home invasion time, with a good cast—Idris Elba playing offense, Taraji P. Henson playing defense. The Arch-Slouch returns in St. Vincent (Oct. 24): Bill Murray as a salty oldster in loco parentis of a 12 year old. Dear White People (Oct. 17) is the much-tweeted about indie regarding the strain of being black at a mostly white college.
Gradually improving Pacific Northwest mumblecorista Lynn Shelton brings us Laggies (Oct. 24) with Chloe Grace Moretz chief among the underachievers. And get out your handkerchiefs for another Nicholas Sparks adaptation, though The Best of Me (Oct. 17) is helmed by Michael Hoffmann, a director who has shown some taste before. Wetlands (Sep. 19) isn't the famous German scheisseporn, but it isn't unacquainted with it; this diary of an extreme young girl (Carla Juri) scandalized Sundance. Also Sep. 19: Take Me To The River, a concert movie in which today's hip-hoppers meet yesterday's blues and soul legends. Last Days of Vietnam (Sep. 26) has Rory Kennedy, Robert F.'s posthumous daughter, directing the documentary story of the evacuation of South Vietnam as the Communist forces arrived.
For Halloween: Annabelle (Oct. 3), a bad doll on the warpath. In Dracula Untold (Oct. 17) Luke Evans as the entrancing Transylvanian who patriotically turns to vampirism to save his people from the Turks. Ouija (Oct. 24) "Based on the Hasbro Game" and produced by Michael Bay (sad trombone) opens day and date against Paranormal Activity 5.
Left Behind (Sep. 26) may even be scarier. God vacuums up his own and leaves Nicolas Cage behind, but God is going to wish he took Cage too, when Cage gets done with him! I would assume.
Also: the usual film fests, including the reliably excellent UNAFF (Oct. 16-26), the Silicon Valley Jewish Film Festival (Oct. 18-Nov. 16), Poppy Jasper International Film Festival in Morgan Hill, and the CAAMfest, held by the Center for Asian-American media (Sep. 4-7).