Movies
Faust: Cinequest Finale
Two versions of 'Faust' highlight Cinequest's final weekend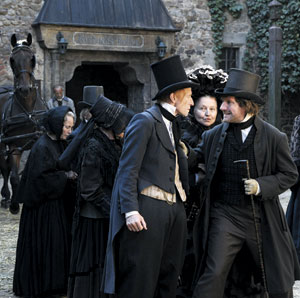 Made IN 1926, Faust was F.W. Murnau's last film before leaving Germany. As he was about to sign up with Hollywood, one can wonder about his choice of subject matter.
The medieval doctor (Gosta Ekman) is, in this version, kin to the Bible's Job. He is the subject of a bet between Emil Jannings' Mephisto and a good angel. Old, weary from profitless study, Faust is tempted into conjuring up Satan in exchange for knowledge and youth.
After stealing the bride of a duke and satiating himself on earthly pleasures, Faust longs for a home. In particular, he longs for a slim village girl, Gretchen (Camilla Horn), whom the devil may not deliver without some trickery.
Silent-film neophytes, tempted by The Artist, will get an eyeful in this presentation on the big screen. The special effects still impress. Smoke and fire are used as much as light. (Need further temptation? The musical score is being played by a master of the Wurlitzer, Dennis James, along with Mark Goldstein—jointly known as the Filmharmonia Duo.)
Faust is sometimes quaint and sometimes haunting, with its royal wedding attended by a brace of full-size pantomime elephants, with its flight above the Alps, past pagodas and strange waterfalls, over which storks as big as pterodactyls fly.
Jannings' master of ceremonies is a cat-eyed devil sporting a V-pointed cowl and a pheasant-tail feather in his cap. A long sword tents the back of his cape like a tail. Like Beetlejuice (has it been clear so far that Tim Burton fans need to see this?), Mephisto changes size. He swells up in fireplaces, as if nourishing himself on the flames. Outside, he towers a mile high over the steeples, stirring up a lethal plague.
Faust is a grand, irresolute film, done in five separate versions. And it slows over the passages with Gretchen, until her hothead brother makes his entrance. (The brother is played by William Dieterle, who directed The Devil and Daniel Webster in 1941, a superb Yankee Faust, in 1941.) Stick around through the rustic courtship scenes to get to the finale, a stunningly effective tragedy of persecution.
Faust plays March 9 at Cinequest, two days before the anniversary of Murnau's 1931 death in a car accident. It was the day silent cinema died, if you like. Murnau was 43, and he had already made three of the greatest films ever, Nosferatu, The Last Laugh and Sunrise. It's enough to make you call up Mephisto just to ask what Murnau would have accomplished if he had lived.
As a warm-up to Murnau, the festival is also showing a new Russian version of the story by director Alexander Sokurov (Russian Ark); the film is the fourth in a series that includes films on Lenin, Hitler and Hirohito.
Silent Faust
March 9, 7pm, California Theatre
Russian Faust by Alexander Sokurov
March 8, 4pm, San Jose Rep