Movies
'Get On Up'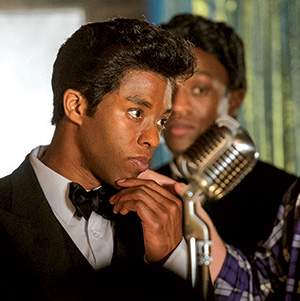 The model for the Tate Taylor (The Help) biopic of James Brown, Get On Up is Walk the Line: the influence is there from the opening murky backstage roar of an off-screen audience waiting to be fed, to the easy diagnosis of childhood trauma to explain its subject's drug-abuse and coldness. (It's a little wrong to blame the crimes committed by a man pushing 70 on his inner child.) If Walk the Line saw the past as a sunny idyll, here Georgia is in the permafrost of the Depression and WWII—it's full of the fallen leaves and fog of a Civil War movie.
Get On Up revels in the energy of James Brown, as played with intense concentration and excitement by Chadwick Boseman. He's good enough to drive the real Brown out of your head, for as long as it takes to go back and see the joy, speed and rawness of the real thing: in the sweat and shine and pulse, watching the real Brown's face in closeup is like looking at something that's as free of artifice as open-heart surgery.
In its harshly wrought flashbacks, Get On Up tries to mimic the disorientation of a driven, money-obsessed musician trying hard to stay in the present. Listen, James Brown has become unstuck in time.
Producer Mick Jagger may have aided in making the film ruthless: the sex (pretty PG) and the drugs are an unimportant side-dish to Brown trying to build his work. What does matter is his efforts to use all the instruments in his band as percussion, to get the gate money due him (and then some), and to record live at the Apollo when his record company thinks it can't be done. The drive leads him to final megalomaniac solitude right after a fantastic recreation of the 1971 show at the Olympia in Paris. Only in these later scenes do we face an essential Brown weapon: the unparalleled gift for a segue between his songs.
Such a cast: Dan Aykroyd as Brown's manager, the ever-hilarious Craig Robinson as funk-lord Maceo Parker and Octavia Spencer as the madam Aunt Honey, who raised Brown. Viola Davis continues to astonish as Brown's mother. Her last line in this film makes you gasp; she's so audacious she transcends bad-mom melodrama. The prize in all this, though, is Disney escapee Brandon Smith as a gorgeously feline and flirtatious Little Richard, giving Brown an X-ray-eyed looking-over outside a fast food joint at night. Get On Up insists that family can't matter to an artist—it's only the company of peers that makes one come alive.
PG-13; 138 min.