Movies
Holy Motors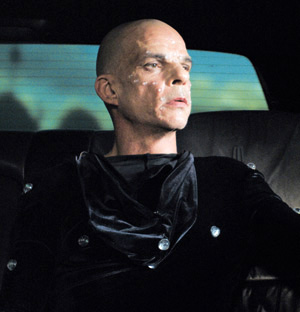 A kind of movie-long dream sequence, Leos Carax's bizarre and mesmerizing Holy Motors follows a man of mystery during his long journey to the end of the night in Paris. He's a role-player of sorts, but one for whom cameras are not necessary.
Carax's protean star is the amazing Denis Lavant, a kind of cross between the SCTV-era Rick Moranis and Walter Huston at his best. Lavant's crepuscular M. Oscar is perhaps some kin of Fantomas himself: a key figure in French fantasy, related equally to the Phantom of the Opera and the omniscient Bond villain. Even the poster for Holy Motors recalls the mask of that shape-shifting demon of chaos: always sought, never found, still at large.
In a white stretch limo loaded with makeup and costumes, piloted by the handsome, droll Edith Scob, M. Oscar goes on "assignments" of a frequently malign nature: anything from wet-work to the deliberate crushing of an adolescent girl's spirit. Some of his other labors are more ambiguous: posing as a dying man with the help of a grieving niece. And at a factory, Oscar performs a dark ballet in a motion-capture suit studded with glass bulbs. In this startling dance sequence—in the studio days, Carax could have been a master of the musical—Holy Motors suggests that sometimes the strangeness of what can be caught with physical acting and makeup beats the imaginary worlds wrought by animators.
Oscar goes in for melodrama. One low-comedy sequence features the return of Lavant's one-eyed monster Merde (the terror of Japan in Carax's episode in the Tokyo! anthology). The nasty red-headed troll scoops up a deliriously impassive Eve Mendes from a photo shoot in Pre Lachaise, where she is posed as a gold-lame-wrapped goddess Diana. Mendes proves herself here—not just as a raving beauty but a really good sport. More sophisticated regret is evince d in a sequence in the empty shell of the Art-Deco landmark La Samaritaine, the now-closed department store that loomed over Carax's immortal The Lovers on the Bridge.
Holy Motors is sometimes like watching a cryptic Cirque du Soleil bit that doesn't come off. But the arrestingly different way Carax cracks the mystery of an actor's life makes this film one of the year's best comebacks.
Holy Motors
NR; 115 min.