Movies
Ivy League Exorcist:
The Bobby Jindal Story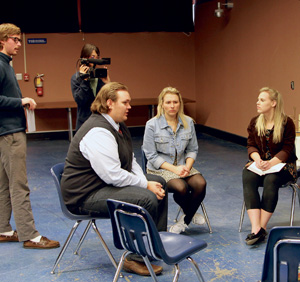 The filmmaker of tomorrow, John Waters wrote, would take a morning-news scandal and have a theater-ready feature film done by the afternoon. CultJam Productions and San Jose–based director Mario Glaviano took a little more time, but they've sourced the news in a way worthy of Waters in their short, sharp shocker Ivy League Exorcist: The Bobby Jindal Story.
Ivy League Exorcist (which can be seen on the website, cultjampro.com) had been planned sometime before the Louisiana governor's political possibilities heated up. Today, however, Jindal has been short-listed for the Republican vice-presidential nomination. Jindal may be a heartbeat away from becoming Exorcist in Chief.
Last year, Ivy League Exorcist's writer/producer Troy Davis saw a news aggregator's mention of Jindal's 1994 essay in the New Oxford Review: "Beating a Demon: Physical Dimensions of Spiritual Warfare." The essay related the governor's first-person experience of the 1990 exorcism at Brown University of a fellow student named Susan. Davis read the Jindal story and thought, "I'd really love to see this as a mumblecore film, made just the way the article described the events."
Making the film, said Glaviano, "was pretty speedy process—we got some really talented people who knew what they wanted and what they were doing. It made direction easy."
Mark Balunis, with a black wig and some walnut-toned makeup, plays a very worried Jindal. Susan is played by Caitlin Dissinger, who shrieks Linda Blair–worthy blasphemies: "You whiny-ass titty-babies! I queef on your Bible!"
Terrifying, yes, but scarier still is the fact that they are aware of the film in Louisiana. Reporter Michelle Milhollon of Baton Rouge's The Advocate got no response from Jindal, but the governor's spokesman, Kyle Plotkin, went on record: "That movie is insane. It's just plain absurd."
"We don't know if Bobby Jindal has seen the film, but we sure hope he does," says director Glaviano "Something happened in that classroom that was very real to Jindal—all we did was translate that happening into something visual."
The dialogue may be fanciful, but CultJam's staging is just as Jindal described the incident: "It appeared as if we were observing a tremendous battle between the Susan we knew and loved and some strange evil force."
True, Jindal was aided by his friends in the University Christian Fellowship as well as "a rival campus religious group" to kick the Basophet out of this Brownie. And Jindal's question, "Did I witness spiritual warfare?" has merit for audiences who take their exorcisms seriously enough to buy tickets for The Rite and The Devil Inside.
Glaviano met writer/producer Troy Davis and cinematographer Francesca Stonum at San Diego State. Davis and Glaviano were students of theorist Larry McCaffery. Also involved as assistant director was San Jose's Mark Schwab, known for his award-winning shot-in-three-days film The Last Time I Saw Soap.
Producer/writer Davis is a West Virginian who hopes to shoot his and Glaviano's upcoming feature film, Insect Fear, in Wheeling. "It's influenced by David Lynch and Cronenberg, with a little Harold and Kumar thrown in," Davis explains.
Davis had just got the news that Jindal's people had seen the film: "'Insane and absurd'!—that's music to my ears! I didn't see this as a hatchet job," Davis says via phone from Los Angeles. "I think this exorcism was a manifestation of this satanic panic in the '70s and the '80s. There were fantastic claims of satanic abuse. Former satanic priests became born-again preachers, claiming they took part in human sacrifices."
Although he produced the film, Davis wasn't actually at the six-hour-long San Jose shoot of Ivy League Exorcist. "I had full confidence in Fran, Mario and Mark. Even though I have no prob with a writer on set, I thought, 'Let them do it'."
Davis suggests: "People do stupid things in college. My stupid things were more like waking up on the shower floor of the girl's dorm. In Jindal's exorcism, nobody ended up being hurt. It wasn't very thoughtful behavior. When they saw Susan having a fit, they should have called the paramedics. But it wasn't like Jindal was trying to do anything bad. Even Obama and Biden did stupid things in school É but they weren't cinematic stupid things."
Ivy League Exorcist: The Bobby Jindal Story
www.cultjampro.com