Movies
G-Man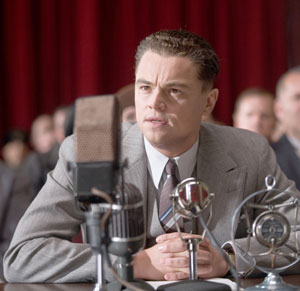 CLINT EASTWOOD'S shot-full-of-curare biopic J. Edgar takes on a half-century of history, from the Palmer Raids to Nixon's regime. But the movie unfolds entirely in a few rooms. It's a defensible stance when telling a lifelong bureaucrat's story, but a chore to watch.
This J. Edgar Hoover (Leonardo DiCaprio), founder of the FBI, sits at a desk. He's a pudgy minotaur, encircled by a loyal secretary (Naomi Watts) and a proud but suffocating mother (Judi Dench). He emerges for lunches, dinners and jaunts to the racetrack with longtime companion Clyde Tolson (Armie Hammer, the Winklevosses of The Social Network). Scriptwriter Dustin Lance Black (Milk) underscores everyone's favorite tale of Hoover: the urban legend of his gayness and transvestitism. The film asks you to mourn Hoover, who may have hidden his own sexuality even as he snooped into the sex lives of others. Would this epic blackmailer—the head of the American secret police—have been a better man if he just could have declared his secret love to the world?
Understandably, Eastwood cites the good work done by Hoover. Kidnappers have never prospered in America, thanks to the FBI. J. Edgar follows the Lindbergh case, which is treated as an open-and-shut criminal matter, solved by innovative fingerprinting and forensic analysis—rather than by circumstantial evidence.
Hoover is a catastrophically recessive part for DiCaprio: he's a glowing smudge on Eastwood's underlit screen. At first, we see a snazzily dressed, fussy young man, less interesting even than Kevin Costner in The Untouchables. In the leap of a scene, Hoover is a swollen elder in thick makeup.
At their worst, Eastwood's films are a series of incidents with little connection, anecdotes that don't lead to any truth. His many fans consider this lack of emphasis essential to Eastwood's pragmatic coolness. But J. Edgar has no highs or lows, even when famous people turn up: say, a squandered Jessica Hecht playing Emma Goldman.
Maybe the moment when the film stirs from its coma is at the end: Richard Nixon (Christopher Shyer) pronounces both a public and private obit for Hoover. The private, obscene obit is a relief from the sanctity of the rest of the film. Say what you will about Nixon, but at least he had an opinion on J. Edgar Hoover.
R