Movies
Jiro Dreams of Sushi
The new documentary Jiro Dreams of Sushi
examines the culinary passion of a Japanese chef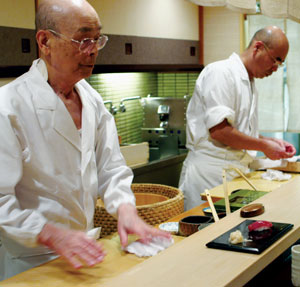 What Jiro Ono looks for is a sound: an exhalation of satisfaction that his customers make. The documentary Jiro Dreams of Sushi touches on sturdier questions: Can perfection be obtained and is happiness really only be found in trying to pursue it?
An old man with an impassive face and rimless spectacles, Ono is the force behind Sukiyabashi Jiro, a 10-seat sushi bar in an alcove of the Ginza subway station in Tokyo.
It is a three-star Michelin restaurant, where the bill begins at 30,000 yen (about $360) and can go far higher. No appetizers, 20 pieces of sushi per diner. Reservations required at least a month in advance. (There is a branch restaurant in Tokyo's exclusive and alienating Roppongi Hills high-rise complex, anchored by Goldman Sachs' local branch). Jiro's younger son Takashi runs the restaurant.
At 85 years old, the master Jiro is focused on work above all. He dislikes holidays. He works with his grown son, who is 50ish, as well as with a senior apprentice who also will never see the happy side of 60 again.
Nakazawa the apprentice obviously fears the old man: "I don't sleep with my feet in his direction." A trio of younger apprentices takes care of the prep. Fun fact: To make it perfect, one needs to massage the raw octopus for 45 minutes.
What we see of Jiro's past is bleak. He displays a flash of irreverence at his parent's grave: "They never took care of me." Jiro left home at 9 and apprenticed at a restaurant. There, he was told that "the history of sushi is so long that nothing new can be invented."
For decades, Jiro has sought to overcome that long past, literally dreaming of new morsels in the rare hours when he isn't working. And he worked the kind of hours that made his sons wonder aloud to their mother: Who is the strange man sleeping in their house? "I wasn't much of a father," he says.
As triple-X food porn, Jiro Dreams of Sushi is rapturous. By the time it's over, you feel you can tell a little about the difference in grades of tuna, from the fatty to the finest and leanest, simply by the color. The stained-glass translucency of the pieces contrasts with the keenness of the knives.
We learn of the importance of timing—tuna is to be aged three to 10 days. By Jiro's lights, it takes 10 years to learn how to prepare a roasted egg dish, a dish cooked by waving a cast-iron form over a low fire. The essentials of rice preparation take what Jiro calls "significant skills." In the scene where Jiro is visited by his longtime rice salesman, an air of covertness pervades, as if the men are careful not to blab trade secrets.
We note the toughening of hands of apprentices through wringing out the extremely hot towels given to the customers at the beginning of the meal. And yet pieces of sushi must be handled as one would handle a baby chick, Jiro notes. The future of sushi, in light of overfishing, is touched upon.
Director/producer David Gelb sometimes honors Jiro with slow-mo sequences, as the old man peels off his white gloves or undoes the sash of his smock. Viewing the outward gravity, Gelb suggests the anxieties boiling inside the man, through some overfamiliar selections by Philip Glass.
Jiro is concerned about his legacy. As he has no intention of retiring, he must leave the business to sons who will have to work twice as hard to try to continue the restaurants' prestige.
If Jiro's firmness weren't tempered by a sense of humility, the documentary would be unwatchable. But the emphasis on self-sacrifice leads to a de Maupassant-style question: Just how much has Jiro actually been involved during some of the most celebrated moments of the restaurant? Is he a figurehead? How difficult would it be to be Jiro, to try to live these dreams of perfection?
PG; 81 min.