Movies
Les Miserables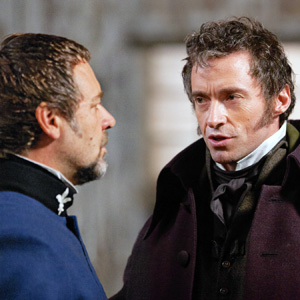 Penelope Pussycat, the poor kitty always sexually harassed by Pepe Le Pew, might be the perfect reviewer for Les Miserables. Winded from being chased, she moaned, "Le puff... le pant..." The movie takes your breath away like that.
Les Miserables runs 157 minutes, few of them endurable. One might feel some kind of chest-flutter for an instant during "I Dreamed a Dream" in memory of Susan Boyle's touching forcefulness, or try to respect the maelstrom of tears wept by 25 years of matinee crowds—a monsoon undiminished by the fact that, for decades, South Park has been roasting this thing as if it were a luau pig.
Yet critics go on tiptoe, worried about being punched out by theater fans, as if those idlers had any iron in their bones. Say it proud: Les Miserables is bad. It can't contain the discursive beauty of the book. It zips around making characters turn up aged with white hair for yet another coincidental path-crossing, requiring them to describe their feelings in "what is this I'm feeling right now?" lyrics.
The politics have a musty centrism that only looks like even-handedness; this is the least-rousing call to the barricades imaginable. Plus, you could mash the revolutionary anthem "One Day More" with "Tomorrow" in Annie and scarcely miss a beat. Is there any original music in this behemoth? The cross-purpose duets and trios (which have the effect of people singing over each other's solos) only emphasize the flatness of the tunes.
Any hope of popular, artless simplicity is betrayed by a rigid, rhyming-scheme verse by Herbert Kretzmer. A group on a bare stage can make Les Miserables weepworthy live, maybe, but the pitiless camera exposes the conceit, the coincidence, the motivelessness—even suggesting (unforgivably) that it is Victor Hugo who creaks.
Tom Hooper's film version seeks streetiness with hand-held cameras and an emphasis on blood and realistically filthy sewers. Amid this squalor, Hugh Jackman (Jean Valjean) and Russell Crowe (Javert) bellow at each other at close range.
This sunless movie seeks to re-create the surly clouds and gloom of the illustrator Dor– (whose engravings were plundered for all those Les Mis sweatshirts and shopping bags). But Hooper is also trying to emulate Tim Burton's last great movie, Sweeney Todd, in the soot and satin costume design, and the gore and the whores.
Here are two of Sweeney's cast members, Helena Bonham Carter and Sasha Baron Cohen, as the two thieving proprietors of a brothel/inn. This Rooster and Lily bit resembles a commedia del arte approach too gauche even for a children's show, let alone for Annie.
Hooper tries to zest these scenes up with cleavage. The best chest in the movie, belonging to the sloe-eyed Amanda Seyfried, is veiled. Seyfried gets the role of the uninteresting good girl Cosette. The good-bad Eponine is played by the not-bad Samantha Barks, a stage actress who has the advantage of a voice that can make the songs sound like they've got some dynamism.
As the more-sinned-against-than-sinning Fantine, Anne Hathaway gives something like 10,000 percent. Fantine falls into unemployment, shearing, mutilation, prostitution and consumption in the time it takes to nuke some popcorn, but there's no time to feel anything for her. She sings her swan song straight to the camera, big, brown hollow eyes pleading for a Golden Globe. There's a bit of retching in her singing: a cry from a broken stomach.
This film is a job for FEMA. Hooper's hand in the street-fighting scenes is as shaky as in the love scenes or the weird Alfonse/Gastonery of the Javert/Valjean antagonism. Ultimately, what dooms this mammoth mistake can be blamed on the verses and the insistence on the close-up for every incidental line. The cast has to give operatic emphasis to rhymes like "won" and "Don Juan"—or seek the colloquial ("Hey there, monsieur, what's new with you?/ Are you planning to overthrow the state?")
The Warner Bros. cartoon vibe suggested itself when Valjean himself offered himself up this request: "Shoot me now/Or shoot me later." It's the uncredited writing of Daffy Duck.
Les Miserables 157 Min.
PG-13