Movies
Hard Times
Oliver Schmitz's Life, Above All takes a sobering look at a young African girl's survival tactics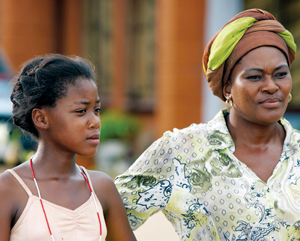 SOME INTERESTING class and cultural distinctions inform Oliver Schmitz's Oscar-shortlisted Life, Above All. It's not about people singing "Kumbaya" in the continent where they invented that song. Any movie that even occasionally suggests that poverty doesn't equal good-heartedness deserves credit.
There's a nod to the boredom of being poor here, in a moment of a little girl tossing beer bottles off some bleachers at the dusty soccer field, just to listen to them break. The stigma of AIDS is still alive and well in Schmitz's vision of Africa. Even the graves of babies killed by another disease can be regarded with an upside: "At least they died pure."
In the fringes of urban South Africa, a pair of teenage friends—Chanda (Khomotso Manyaka) and Esther (Keaobaka Makanyane)—do their best to survive the lack of parents and deal with a disease too grim to be mentioned by name for most of the film.
Chanda's mother (Lerato Mvelase) is ailing with what is obviously AIDS. Chanda is urged to pretend that mom is sick with the flu. A witch doctor visits, though, of course, she fails to drive out the sickness. Then comes the connivance of a next-door neighbor Mrs. Tafa, who is involved in literally making the problem go away.
Young Chanda's drunkard stepfather is useless; he denies having the disease. You wonder why he worries about his local standing when he gets publicly wheeled back from his excesses and dumped like rubbish on the front lawn. He protests that if there's AIDS around it's his wife's fault, even though he's currently sleeping with someone else. Meanwhile, Chanda's best pal, Esther, becomes so poor that she has to turn to teenage prostitution at the local truck stop.
Schmitz has a keen eye for landscapes and people; this isn't a prettified story. Often, he transcends the limits of the amateur actors as well as his source, Canadian writer Allan Stratton's young-adult novel Chanda's Secrets. Few saw Africa United when it was here as part of the From Britain, With Love Series, so there's little sense in kicking a movie that's down by pointing out how much Life, Above All is easier to take seriously. Both try to deal with AIDS and underage sex workers, but Africa United takes the sunnier side of the street. As a line in that earlier film put it, "Positive? I'm always positive!" (Beaming Smile. Eventual exit into a glowing white heaven.)
By contrast, the source for Life, Above All takes on a basket of social troubles and dispenses triple portions. Disasters that might happen to five or six people in real life are dealt out to one or two characters. As always in young-adult lore, the teen lead is good-hearted and optimistic: a role model for young readers.
As acted by Manyaka, Chanda can be counted on invariably to do the right thing. That the writing is simplistic doesn't preclude some rich short-story details. Ultimately, the most ambiguous character in the movie is the hefty church lady Mrs. Tafa, played by Harriet Manamela (Hotel Rwanda).
This is a film mostly about good people and bad people instead of people, so it's surprising that the most powerful-looking person in the film, Mrs. Tafa—the one who has her ducks most in a row by American standards, with all the middle-class values of framed photos and well-tended furniture—is also the most consumed by wrongheadedness.
She's eager to keep up appearances, even to the point of well-intentioned cruelty. And as matriarchally powerful as Mrs. Tafa looks, she's still the easy dupe of a quack with a roadside clinic selling "Herbatex" as an AIDS cure.
The finish is emotionally effective: It's the final terribly credible detail—the saddest moment, staged in the most picturesque, traditional African surroundings. The ending grounds this worthwhile movie even when Life, Above All tries for too much uplift.
Life, Above All
PG-13; 100 min.
Opens July 22. Camera 3, San Jose