Movies
Lincoln
In Lincoln, Steven Spielberg gives us both the towering statesman and the savvy politician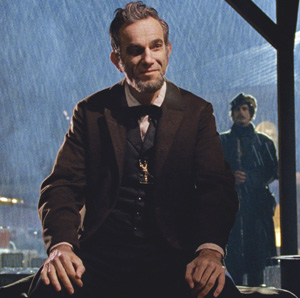 Steven Spielberg's Lincoln—by far the most intelligent of the director/impresario's history films—has as its subject the passing of the 13th Amendment, which made the freeing of the slaves a part of the Constitution.
This otherwise first-rate film doesn't quite clarify the circumstances. It doesn't fully explain that the Emancipation Proclamation might have been considered a wartime emergency measure, and that it could have been struck down after the Civil War ended. Tony Kushner's wily script counters Spielberg's instinct to Capra-ize this history. Being Spielberg, he does, though, a bit. The scenes of Lincoln's legal victory, with Congress throwing papers in the air and singing "The Battle Cry of Freedom" look oversized. The meeting of Lincoln and Grant (a well-cast Jared Harris) at Appomattox is pitched for maximum sentiment.
In Lincoln, however, we have the reliable movie pleasure of watching a charismatic, covert man who won't tell us what is dearest to him. The movie portrays Lincoln as an outwardly serene manipulator. You can see the Bismarck in him behind the mask of the weary saint—herding lame-duck congressmen and using his agents to cajole, bribe and threaten.
Daniel Day-Lewis plays Lincoln with sterling wit and nobility. Visible right from the beginning is not just an uncommon man but a very strange one—and certainly an unhappy one. What makes such a man tell jokes? Cornered, Lincoln relies on anecdote. In one scene, a backwoods office seeker and his wife are both dumbstruck by Lincoln's pointless way-homer story about a dead parrot.
Lincoln observes the tension between a man haunted by four years of carnage, sleepless and grieving, and Sally Field as his proud, unbalanced wife. She's as weird as he is, really. Mary serves as a sounding board and dream interpreter (she calls herself "a soothsayer").
The film commences with a black-and-white dream sequence with Lincoln aboard a black ship rushing at great speed to an unknown shore, almost as if it were a jet plane. This image of Lincoln on the deck starts the movie on the right foot. The sequence directly faces the gulf of time that makes it so hard for people of today to understand the most remarkable man this nation ever produced.
Lincoln is talky but surprising. It traffics in moments one didn't know about, such as the irony of where Lincoln's son Tad (Gulliver McGrath) was when he heard the news about his father. The brisk way Mary Todd's companion Elizabeth Keckley (Gloria Reuben), a former slave, describes to Lincoln's son how she was beaten is nicely matter-of-fact—someone shutting a door, politely but firmly. Tad pores over glass-backed pictures of savaged slaves just as Spielberg must have gazed at photos of Holocaust atrocities when he was a child.
The costumes give the actors a chance to be mountebanks. All the high hats, the gold vests, the frock coats and the string ties suggest the look of confidence men, and most of them are, essentially. Hal Holbrook lives large as the vast and elderly kingmaker Preston Blair.
Holbrook, however, is eclipsed by Tommy Lee Jones' soon-to-be Oscar-winning turn as Thaddeus Stephens. The performance involves an askew wig and a dog-headed cane (Jones keeps mulling over the carved head, like a jester gazing sadly at his coxcomb). He has grounds for biliousness—he is a radical courted by the milksop mainstreamers, ultimately made to take one for the team.
Lincoln is so bewilderingly good that it makes up for the crowd-pleasing banal points, like the twinkle in Lincoln's eye when explaining to Keckley that in the future, ex-slaves and the freeborn "will get used to one another."
Left alone is whether Lincoln's ambition—"a little engine that knew no rest," as his law partner put it—seized on the issue of slavery, or whether he was truly disgusted beyond measure with it. For myself, I'm satisfied with Edmund Wilson's idea: in the end, it's immaterial what Lincoln thought, since he lost his life in the cause. With such proof, who needs rhetoric?
PG-13; 120 min.