Movies
Mama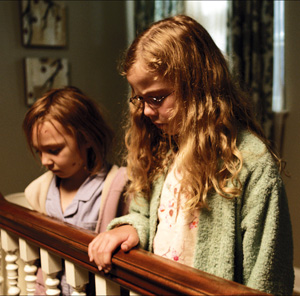 A glut of horror movies, and yet it's rare to see something that looks genuinely too scary to watch. Mama begins in an atmosphere of cataclysm. During the '08 stock market crash, a big financier kills his partners and his wife. Escaping the police, he takes his two children, Victoria and Lilly, deep into the snows, with no better plan than a murder/suicide.
Instead, a spirit of the woods raises his children. Several years later, trackers discover Victoria and Lilly. The father's amiable artist brother, Lucas (Nikolaj Coster-Waldau), and his rock-musician girlfriend, Annabel (Jessica Chastain, doing Joan Jett), volunteer to raise their nieces. Victoria (Megan Charpentier), now 8, bounces back from the years of captivity, but 5-year-old Lilly (Isabelle N–lisse) is still in thrall to the "Mama" who raised them in the woods.
Director/co-writer Andr–s Muschietti (who worked with executive producer Guillermo del Toro), isn't a smooth operator—the episodes don't fit together well. One too many characters decide to explore Mama's gingerbread house by flashlight. But the horror is explained to the satisfaction of the skeptical.
The spirit cannot speak—she may have been born mute—but she communicates through nightmares, and the dream sequence that tells her backstory is as about as frightening as it gets. A state bureaucrat (Elva Mai Hoover, excellent) is the film's spine. She figures Mama out and gives the "doors man was not meant to enter" speech: "I'm not a religious person, but I believe there's a place for human remains."
Such paganism, such nightmare material and a little tasty class card-sharping is what you'd expect from del Toro and his associates. Mama delivers an Appalachian (well, "Alleganian") turn on the J-horror vision of an angry, lonely spirit: the creature swimming in the air, drowned-woman's hair floating, broken marionette joints. She appears in an aura of mildew and is a familiar of flittering smutty moths. Lilly gobbles them like peanuts.
The punk-rocker mask slips a little on Chastain's fine-boned face. But you like her for trying it, and I also like the rude, catlike way she helps herself to Lucas' hospital bed. It's thoughtful writing: a rocker is halfway ready to meet the uncanny. When the children beg Annabel not to look in a closet, she closes the door respectfully.
PG-13; 100 min.