Movies
Midnight in Paris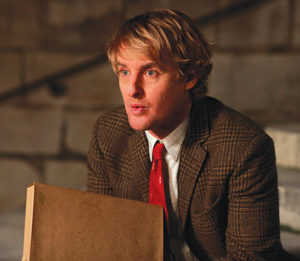 WHATEVER HAPPENS, one can't go wrong filling up the screen with Paris. Woody Allen's Midnight in Paris opens with vistas shot by two-top drawer cinematographers, Darius Khondji and Johanne Debas. Owen Wilson plays Gil, a disenchanted Malibu screenwriter who wants to be a novelist. He's visiting Paris with his betrothed, Inez (Rachel McAdams), and his rich and conservative in-laws. Gil tours the city on his own by night. One evening, a horse-drawn carriage materializes as the clocks strike midnight.
Gil is swept along to a party with F. Scott Fitzgerald and Zelda (the gilded couple are played by Tom Hiddleston and Alison Pill). Through these two, Gil meets Gertrude Stein (Kathy Bates, too gracious, not fierce enough). The nights continue, and Gil encounters other artistic and literary lights of the 1920s, magically reincarnated. Eventually, Gil meets a girl (Marion Cotillard) with a similar yet drastically different taste for nostalgia.
The not-very-pungent point would suit a Twilight Zone episode, but Allen stretches it into a culture-vulture's game of spot the stars. I somewhat enjoyed playing along. Adrien Brody makes an invigorating Salvador Dali, and Tom Cordier has the right kind of forehead to play Man Ray—bulging and seemingly bursting with ideas. The burlesque sketch of Ernest Hemingway (Corey Stoll) as a man spoiling for a fight ignores a chance to get deeper. But Allen keeps moving along; Midnight in Paris is so stuffed with moderns that a character essentially introduces himself as "Yes, I am T.S. Eliot."
Great artists don't just remind us we can leave footprints on the sands of time—they leave us changed. These historical figures are mostly here to congratulate Gil on his novel, which actually sounds like Paul Auster: sweet and boneless. For 1920s caricatures, I've seen worse. But this was an era when nimble cafe accordionists were thicker than flies on a fly-boat. Why did Allen get a soloist who sounds like Lawrence Welk?
The comedic points are strangely out of date; there's even a scene calling for "the house detective." Necessary as this figure was for the great age of farce, the house detective has probably gone by the wayside. Allen runs the same risk, in creating this moldy vision of Paris during its era of artistic adventurousness.
PG-13; 100 min.