Movies
'Mr. Turner'
'Mr. Turner' captures a brutish, observant artist living in a brutish time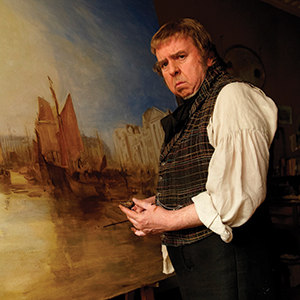 There's a scene in Skyfall where Daniel Craig's James Bond is meeting with his quartermaster (Ben Whishaw) at the British National Gallery. Our hero is seated in front of J.M.W. Turner's 1838 painting The Fighting Temeraire. It depicts a ship, once part of the victorious British fleet at Trafalgar, being towed to the wrecker's yard for salvage. The young Q has chosen the rendezvous carefully and cruelly as a way to infer 007's obsolescence.
The question of obsolescence is a part of Mike Leigh's towering study of the artist in question, Mr. Turner. Mike Leigh, likely England's most eminent director, may be demonstrating his own perplexity at changing tastes, and the changing ideas of what makes a movie. This biography of an odd, compartmentalizing man's last quarter century is as fascinating as it is lovable. It's a series of incidents, most of them quiet, illustrating an off-beat life.
Turner (Timothy Spall) was the painter of seaside turbulence, of smoke and brume. In some respects, he anticipated the action painters of the 1950s, using his fingernails and spittle on his canvases. Spall may be best known from the Harry Potter films as a wererat, but his squinting, ambling Turner is more like a bear half-out of hibernation. He growls and rumbles his displeasure at everything from the rising price of pigments to the less-than-acute criticism coming his way.
But Spall also shows us a cordial, good humored figure. Turner is depicted as a Dickensian character in some respects—a self-made man, free to speak his mind. Even if Leigh famously keeps his work unscripted, after periods of intense rehearsal, language is essential to this film. Mr. Turner's fine texture is both in the lines we understand, and the ones we don't quite pick up at once. Spall brings a burr and roll to the dialogue recalling vintage actors such as W.C. Fields and Charles Laughton. Encouraging a nervous young woman playing her spinet, he says, "I possess a rare fondness for Purcell."
Like Orson Welles in his looking-backward films, Leigh seems to have faith that it was a good life back then. However he doesn't overlook how little doctors could do for the ill. Mortality dogs the painter as he does his work. Both Turner and his beloved father (Paul Jesson) suffer from lung ailments. Many of the people who will hate Mr. Turner will hate it for the artist's home life—the scenes of the artist's brutish use and neglect of his adoring servant Hannah (Dorothy Atkinson) who was crippled with psoriasis. Yet Mr. Turner shows the true satisfaction of domesticity when Turner finally meets his soul mate: Sophia (Marion Bailey) a bright-eyed Margate innkeeper with a sweet Kentish accent. There was a time when the word "homely" wasn't an insult—when it meant a person or thing you'd want to come home to. Bailey's warmth and merriness in the role shows a kind of attractiveness that is exactly the opposite of the brand sold at every magazine stand.
As Victorian society got wealthier and duller, the national art became loftier. The Pre-Raphaelites came into fashion, flattering the aristocrats who liked to see themselves as the descendants of King Arthur. Turner is seen snickering at a gallery full of lily-fair maids and knights in armor. (I recalled Spall singing from Gilbert and Sullivan's Princess Ida in Leigh's Topsy Turvy: "A man is but an ass/who fights in a cuirass.") The British public snickered also, as Turner's canvases became more abstract. As happened to Whistler years later, Turner was accused of throwing a pot of paint in the public's face.
There may be more than one way to read this story of a firm but affable artist, who made a remarkable altruistic gesture when faced with a final payoff. Leigh revels in the physicality of this long gone era. But between the lines, he provides a lesson in keeping the soul guarded and seeking what endures.
Mr. Turner
R; 150 Min.