Movies
Nate Taylor's 'Forgetting the Girl'
Director Nate Taylor has made one of Cinequest's most startling, genre twisting films. Now, how to sell it?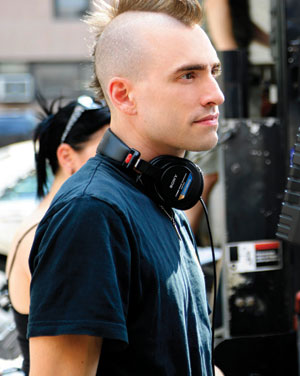 The word "maverick" has had its ups and downs over the years (thanks for nothing, John McCain), but Cinequest has stuck with it. And each year, festival organizers seem to find a way to put the edge back in the concept by standing up for at least one film that defies the conventions of genre, and does everything you're not supposed to do in the marketing-obsessed world of moviemaking.
This year, that film is director Nate Taylor's Forgetting the Girl. A genre-shank of epic proportions, Taylor has made a movie that constantly toys with audience expectations, and in the end delivers something truly original and startling—and unclassifiable.
Perhaps unsurprisingly, he was rewarded for his accomplishment by a long list of rejections from film festivals, until Cinequest accepted it and offered to host its world premiere.
"It's been our nemesis, the genre tag," says Taylor. "I don't like the constraint of genre. It forces you into a creative box. But people really want to categorize things."
What he did instead is turn many of the genre clich–s that moviegoers are familiar with upside down.
The film starts out as a romantic-misfit kind of a story, following photographer Kevin (Christopher Denham), who likes to date his models, but can't seem to make a commitment. So instead he parades through a series of dates and awkward breakups, while his assistant Jamie (Lindsay Beamish) secretly pines for him.
If the early setup of the film is all too convincing, it may be in part because Taylor, who has built a career directing TV commercials, got some of his Hollywood training as an editor on 2001's Kissing Jessica Stein.
Though he says that back then he didn't think it was even possible for him to direct a feature, let alone one that deconstructed the romantic comedy, he admits that he put his intimate knowledge of the genre to work when digging into Peter Moore Smith's script for this film.
"I really tried to emulate a lot of the filmic vocabulary of the romcom for the first half," he says. "I was trying to be in that world enough to lull our audience into a sense of security."
Things take a dark turn, however, with the introduction of Kevin's friend Tanner (Paul Sparks of Boardwalk Empire), who seems unhealthily obsessed with Kevin's photography—and his models. From then on, as the movie twists and turns, it could be considered a thriller, or a mystery, or even horror.
"In the treatment I wrote to help us get investment, I described the technique of 'genre shock,' where you lure people into thinking they're in a different genre than they're in," says Taylor. "They're thinking, 'Oh we're in a romcom, nobody really gets hurt. People cry, but no one dies.'"
Of course, trying to shoehorn the movie into the often cookie-cutter marketplace hasn't been easy. Taylor cut endless variations on the trailer, trying not to give too much away, but also avoid betraying the audience's trust by misrepresenting it.
"The trailer was an animal. We ended up doing something that was kind of short and intense," he says. "It's been very tough trying to figure out how to market this."
The movie finished shooting two years ago, and Taylor drew on a network of other TV-commercial crewmembers he knew (there are plenty of frustrated artists in commercials, he says) to finish post-production on weekends and holidays.
There's been one unexpected advantage to the extended schedule, which is that it gave his cast time to get more famous. Denham, who is fantastic in the lead role, has two big releases this year: Argo, Ben Affleck's directorial follow-up to The Town, and Barry Levinson's much-anticipated sci-fi film The Bay. Anna Camp, who plays a model named Adrienne whose subplot is key to the story, has been in True Blood and Mad Men, and now has a regular role on The Good Wife.
Meanwhile, Taylor is prepping two new projects as he prepares for Forgetting the Girl's premiere. One is another collaboration with writer Smith, who he also continues to work with on his day jobs.
"We're actually working together right now on a Cheerios commercial," says Taylor. "The guys who brought you Forgetting the Girl are doing Cheerios, the most wholesome brand in America."
Forgetting the Girl
(U.S.; 85 min.)
March 2, 7:15pm; March 4, 9pm; March 6, 2:30pm; all at Camera 12.