Movies
October Baby
Rachel Hendrix plays a young woman searching for her birth mother in 'October Baby.'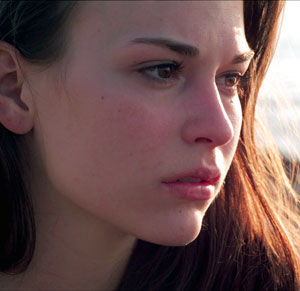 Andrew Erwin and his brother, Jon, who photographed, co-wrote and produced October Baby, were inspired to make the film by the activism of Gianna Jessen. Jessen claims that she was aborted at seven months via saline injection and survived. After this, Jessen naturally had terrific health issues, redefined for the purposes of this fictional film as some unexplained "hip surgery" Hannah (Rachel Hendrix) once endured.
Hannah, a 19-year-old college student, collapses with asthma during a student play. The event triggers questions about her background; she learns from her physician father (John Schneider, who played Pa Kent in Smallville) that she was adopted. Thus, Hannah and Jason (Jason Burkey) head to Mobile, Ala., to find out why her birth-mother decided not to have her.
The script's attempts to give Hannah some personality fail. She says she shows her crazy side when she plays Scrabble, and we don't even see her play Scrabble. Any sympathy we might have for this ultimate case of maternal rejection subsides when we see how Hannah is pushed into everything. She's a passive character, who does things by other people's fiat. There's Jason, who talks her into the road trip; there's a Catholic priest who advises forgiveness (Hannah takes the priestly advice even though she's a Baptist).
Ultimately, Hannah is forced to go home and then hits the road a second time, because of her father's intervention. It says 2012 on the calendar, but Schneider's Dr. Jacob is the kind of man who believes that he has the right to ask his daughter's potential boyfriend what his intentions are. While specific about Alabama backgrounds, in Mobile and the Gulf Coast, October Baby has a polished, impersonal, interstate-hotel style, devoid of regional color. October Baby isn't about the wrongness of one specific kind of abortion, like the late-term abortion Jessen says she lived through. It's about the wrongness of all abortions, even for fetuses with birth defects. There's a story in this film about a would-be aborted baby who also lived: "The doctor says that there wasn't much brain activity ... but we saw him smile." Shades of Terri Schiavo.
October Baby means, ultimately, to provide the anti-choice movement with a horror story of an aborted baby living to confront its mother and to make her weep with guilt.
PG-13