Movies
ParaNorman on DVD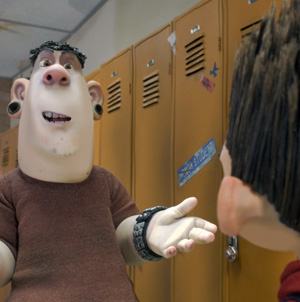 The best animated film of the year, Chris Butler and Sam Fell's ParaNorman (just out on DVD), seems wickedly, excessively grotesque. This stop-motion/CG hybrid by Oregon's terrific Laika studio (Coraline) demonstrates why cartoons about families have the silly tradition of the Hot Mom. There has to be something pretty, somewhere.
ParaNorman's Blithe Hollow is based on Salem, Mass. But it's more like some of the worst Commonwealth mill towns. The citizens are neckless, chinless—or both. The bodies are shaped like butternut squashes, short in the torso, broad in the beam. At one point the frail young hero, Norman (voiced by Kodi Smit-McPhee), is caught in an argument: a small face bracketed by the potbelly of Dad and the paunch of Mom. One likely spot of "hotness" is the hero's teenage sister, Courtney (Anna Kendrick). But she's no beauty: swinging a rump the size of a VW Beetle, wearing violent pink lip-gloss as thick as industrial enamel.
Young Norman sees dead people. His serene grandma (Elaine Stritch) is still in spectral form on the couch. His vagabond uncle (John Goodman) also has the "gift" and requires a word with his nephew. Norman shines him on, since he's busy being the absolute underdog in his school. Too bad, because the night is arriving when the dead will walk, under the command of a curse that dates back to the colonial days.
What follows isn't a battle of right and wrong but Norman's chance to use his ability to right a wrong. ParaNorman is, on one level, a fine fairy tale of a child whose fond wish for horror gets realized. Not since Beetlejuice has a movie has so comically contrasted the peace of the land of the dead to the harshness of being alive.
There's more of the Tim Burton everyone cherishes in ParaNorman than there was in the real Burton's two last movies. The pathos and tragic beauty that turn up are kind of a shock. This is the stuff of top-drawer horror films: Norman meets an inconsolable (and dangerous) spirit, and it's as if an episode of The Simpsons successfully morphed into The Turn of the Screw. Here's a parable of the kind of small-town intolerance that's plagued America for centuries. With zombies, yet.
ParaNorman
Focus Features; $29.95 DVD