Movies
Phil Ochs: There But for Fortune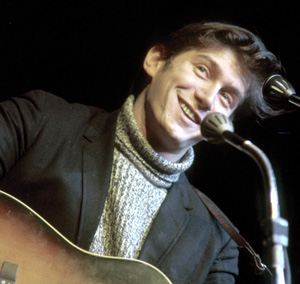 THE LONG-AWAITED documentary Phil Ochs: There But for Fortune leaves nothing to be desired. Director Kenneth Bowser has the cooperation and collaboration of the Ochs family. In addition, Bowser talks to people outside the circle of friends—not that I wasn't moved by seeing the greats of the folk world; with typical intelligence, Judy Henske sums up one of Ochs' main problems: the desire to be both exceedingly famous and exceedingly honest, even when it means going after the spineless liberals in your audience. It is equally a choke-up to hear the noble Pete Seeger describe the fate of Victor Jara. But Bowser also interviews Jello Biafra (a figure with a lot in common with Ochs), Billy Bragg and Christopher Hitchens.
Forty songs by Ochs adorn the soundtrack. The music reflects the hopes and terror in the air of America in the 1960s. And in turn, this Zeitgeist harmonized with the manic depression that Ochs self-medicated with booze. Just as Bowser doesn't overpraise or underpraise Ochs, he's also not rolling in the squalid side of the singer's life. A figure this nakedly open wouldn't have given much dirt to a Behind the Music documentary anyway. As the music promoter Sam Hood says, "Phil was never cool. ... He exposed himself in a way that was ultimately lethal." Still, the first half-hour has something of the preaching to the choir key to the folk era. The film's connecting theme is Ochs' scrapbooks; he considered himself a journalist, using songs as broadsides. The ever-shrewd Dave Van Ronk describes Greenwich Village songsmithing as "the topical song movement."
Some of that topicality is gone. Ochs' late-1960s material was far more musically impressive. His "Pleasures of the Harbor" ought to be as well-known as a song it rivals, Leonard Cohen's "Suzanne." The ragtime "Small Circle of Friends" may have been stimulated by something topical, the Kitty Genovese outrage. But the generous and angry spirit that sings here makes the song relevant—and shaming—today. That spirit of course is needed now. Our 2011 crises of injustice and endless colonial wars could have been addressed in Ochs' lyrics: "Even treason might be worth a try/ this country is too young to die."
Phil Ochs: There But for Fortune
Unrated; 96 min.