Movies
Speed Merchant
A new documentary burnishes the already shiny reputation of Brazilian racing hero Ayrton Senna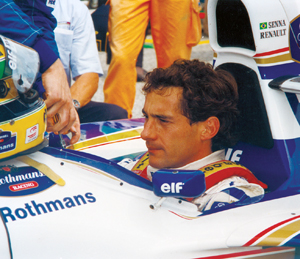 THERE ARE so many nutritional documentaries lurking around now; was Senna, then, about the miracles of herbal laxative? Such was my knowledge of Formula One racing. Not for me, the sights and, worse, sounds, of millionaires speeding their rolling billboards for cigarettes, oil companies and MTV around and around the formerly picturesque downtown of some city.
To a Brazilian, the idea of explaining who Ayrton Senna is would be as lunatic as asking a San Franciscan who Willie Mays is. Senna was bigger than the Christ of the Andes— "the one good thing about this country" say several of the subjects in Asif Kapadia's hero-worshipping yet unquestionably touching biography-doc.
As it is sponsored by ESPN, Senna had the necessary budget to acquire several continents' worth of TV footage, all concerning Senna's short but glittering career. Certainly a definitive study of the races he ran, it could have been titled The Ecstasy and the Ecstasy. (Ready for the sampling: straight from the driver's seat, Senna's shrieks of pleasure as he took the 1991 Grand Prix in Brazil.) Senna was even a hero to his own physician, who noted "a beautiful humility not common among racing drivers."
From a privileged Sao Paulo background, Senna was as handsome as a movie star: a cross between Belmondo and Billy Crudup, with the oversized honker and trembling sensuality of the former, and the sensitive reticence of the other. He was a champion from an early age: first at competitive Go-Kart racing in Brazil, later at Formula One meets at Europe, Australia and Brazil, all the way to the final finish line in 1994.
For faults? To hear Kapadia tell it, none that counted. The film is basically conducted either in cautious TV interviews; otherwise, the man is seen in telephoto lens. Home-movie footage is so flawless it might as well be staged—Senna viewed waterskiing around Brazil and waving at shore-side urchins. (The champion helped many thousands of Brazil's kids, as the end titles mention.) If he's accused of questionable conduct, he's found innocent with an explanation.
We can note a wasteful streak. The man tended to use up jeroboams of Moet for shampoo. And he also drove female interviewers to hard-to-watch levels of simpering. He even flusters national treasure/kitsch idol Xuxa in front of her studio audience, her hand puppets, God and everyone. (After getting a good long whisper from the champion in her shell-like ear, Xuxa covers Senna with lipstick-heavy Happy New Year kisses, good for most of the next decade.)
One can hark to the complaints of fellow driver Alain Prost, with whom Senna had a long-running rivalry that was straight out of a Jerry Bruckheimer film. The two were teammates who ended up unable to speak to each other for years. Prost suggests Senna had such religious devotion that he took insane risks—that's how certain he was of God's favor.
If anything, this fortune looks all the brighter even after Senna's terrestrial luck ran out. We see a woman at Senna's final public appearance give his helmet a last kiss; it isn't the first time you divine something strangely knightly in the man.
We learn tidbits about Senna's techniques. He was what in horseracing parlance would be called a "mudder," someone who performed even better in the rain. And we witness some of the controversies over cybernetics in the cars in the early 1990s, when money counted more than ever for those teams that could afford the gadgets. During a rare losing streak, Senna told reporters he was "fighting an electronic war."
Despite the video footage from inside the cars during these races of the 1980s and 1990s, there's no way here to suggest the power of these machines, the terrific g-forces they whip up on curves and the miracle that so relatively few drivers get killed. Some more Formula One for Imbeciles details could have woven into Senna to make it the best film about its sport—instead of a loving profile of a man who carried the hopes of his nation whenever he drove.
Senna
PG-13; 106 min.
Opens Friday, Camera 7, Campbell, and the Aquarius, Palo Alto