Movies
Sita Sings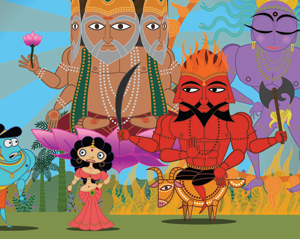 THE RAMAYANA tends to be too complex a story for unsophisticated Western minds, so Nina Paley's heartbreak—chronicled in her lovable, jewel-colored animated film Sita Sings the Blues—turned out to be a good thing for cross-cultural understanding. The former Santa Cruz animator was a victim of the new trend of dumping a wife by email. Paley had recently visited India, where her soon-to-be-ex was working; there, she found out about the Ramayana in a comic-book version. After much research, she retold the tale.
The gods know Sita, wife of King Rama, is faithful to a fault. But when she is kidnapped by Ravana, a rival king, Rama is certain she's slept with her kidnapper. Protestations and lamentation by this primordial wronged woman don't convince Rama. (Part of the crisis is political—"Caesar's wife," as they used to say in the West.) To illustrate Sita's woes, Paley uses 11 songs by 1920s torch singer Annette Hanshaw; performing them is Sita as an avatar of that other cartoon goddess, Betty Boop.
The interludes feature commentary from Indonesian shadow puppets on the depths and curiosities of the story: Is Sita indeed a bit of a doormat? Is Ravana secretly honorable? Is Hanuman even really a monkey at all? These moments match Paley's facility with the animated eye candy: an ingenious blend of Mogul illustrations, appropriated advertising imagery, rotoscoped dancers and a touch of 1950s Disney character designer Mary Blair.
Paley's movie has been slightly besieged lately. A New York screening a few weeks ago was pressured into closing by a Hindu fundamentalist protest. This followed Paley's issues with musical copyrights (thanks Sonny Bono, wherever you are). Protests always attract attention to a film, anyway. While it's not my sacred cow, the Ramayana has been performed in every medium but Legos, and it seems as cranky to protest this as it would be to boycott a new movie version of the story of Lancelot and Guinevere. Sita Sings the Blues is the work of an artist ravished by the tale, trying to figure out why it sticks around, and what influence it has had on the way men treat women and women treat themselves.
Sita Sings the Blues
Unrated; 82 min.
Saturday, noon, Camera 12, San Jose