Movies
Skyfall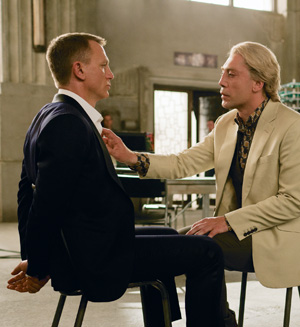 He rescued so many children from so many unhappy childhoods. Yet this ex-child was ungratefully uninterested when Skyfall went into 007's own unhappy childhood—and far less interested in his reparenting, under the stern yet lovable "M" (Judi Dench) and an aged Scots gamekeeper (Albert Finney), who is meant to be Alfred the Butler, it seems. Director Sam Mendes stressed that he wanted to do for Bond what Christopher Nolan did for Batman, but Skyfall's revelation that James Bond is landed gentry makes this arguably the most Tory movie in the series.
If a Bond movie is essentially a string of sequences, Skyfall's contributions delight. Thomas Newman's soundtrack is sensational. A chase through Istanbul is raw and exciting. A passage of tracking an assassin in Shanghai ends with a fight in polychrome silhouette—a highlight of cinematographer Roger Deakins' career.
Daniel Craig's unimpeachable virility reaches Clark Gable levels; no one has ever looked less ducky in a tux, sporting a cruel crew cut, bulging with muscles. And Craig's dry wit is bracing. I loved the sporting gesture, during a fight, of Bond wordlessly warning his opponent of something far more dangerous creeping up.
Skyfall stresses the frailty and wounds of Bond, the age showing in Craig's grizzled stubble, the habits that will kill him if some assassin doesn't do the job first. I don't mind the suggestion of time passing, but when Mendes underscores the point in italics, we're getting far from the essential magic of 007, his miraculous way of slipping through death's fingers.
Gorgeous as Skyfall is, the plot disappoints. The story rephrases the way Bond opposed his old self in 1995's GoldenEye, and doesn't Skyfall seem undervillained? As "Silver," a bleached Javier Bardem makes a big entrance, crossing a room and giving us a variation of a John Giorno poem about the most drastic way to rid yourself of a rat problem. Silver is dangerous enough, but his intentions are small in scale. Sure, Bond can save England, represented here by the Tube, by J.M.W. Turner's painting The Fighting Temeraire, by Tennyson's "Ulysses," by numerous references to Churchill, by even a homely china bulldog. But just England? Once this was a man for whom the world was not enough.
PG-13; 143 min.