Movies
Sparks
One of the most vaunted films at this year's Cinequest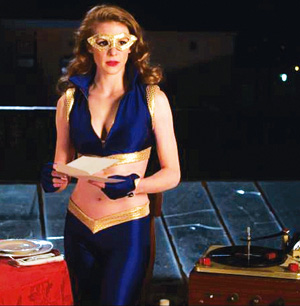 The dark superhero opus Sparks, one of the most vaunted films at this year's Cinequest, hosts an off-campus event Feb. 28 at Santa Clara's Illusive Comics: it's a signing for the graphic-novel version of Sparks (Catastrophic Comics), edited by Notre Dame High School teacher Derek McCaw. Tickets on Thursday are $20 for grips, grins and an autographed copy of the book. The stars will be on hand: the film's convincing villain, William Katt, veteran heavy Clancy Brown, lead Chase Williamson and Gossip Girl's Marina Squerciati (a scene-stealer in the film). On Friday, the celebs will attend Sparks' premiere in downtown San Jose.
McCaw, who has a cameo part in the film, said that he had met Sparks' director through some writing he'd done about director Christopher Folino's 2006 film Gamers, all about the longest-ever Dragons and Dungeons game. McCaw and Folino became friends, and ultimately collaborators on a comic book with Katt, former star of TV's The Greatest American Hero. The project—McCaw calls it "Percy Jackson for adults"—didn't come to pass, but down the line another one did: Sparks, a story of parallel worlds of superheroes, with strife between those (like Batman) who got into the business of vigilante crime-fighting for personal reasons, and those (like the Flash, the Fantastic Four) who got their godlike powers through industrial accidents.
After twin happenstances, a radioactive meteor and a train wreck, "Supers" are plying their trade in late 1940s America. One is Sledge (Jake Busey), a helmeted bruiser. Another is Lady Heavenly (Ashley Bell of The Last Exorcism), a Silk Spectre-like avenger. A newcomer among them, Ian Sparks (Chase Williamson), suffers a key failure during a mission—he apparently faints on the job. This makes him a national joke. Seeking his redemption, he discovers a conspiracy that goes back to the 1920s. Burrows and Folini depart from the Comic Code's moralizing, and the well-done composite animation/live action style resembles that of The Spirit and Sin City.
Sparks is very much what it is—an experience that separates the seriously mask-crazed from the case-by-case fan. But the cast is unusually good for an indie, and the hard PG violence is a little more extreme than one might find in the films derived from the DC/Marvel universe. Also unusual is the set-up, sourcing the mood and era of classic film noir.
Besides a sequel, McCaw hopes that the upshot of Sparks will be that Katt can start getting some disturbing roles: "While he's been an actor who has huge connections to this genre, he can tell you stories about getting direction from Bob Fosse on stage in Pippin. This is the best part he's had in years. I hope someone will see him and see how well he can do scary men."
Sparks
Friday, 7pm, California Theatre
Saturday, 2pm, Tuesday, 4:45pm, SJ Repertory Theatre