Movies
Tabloid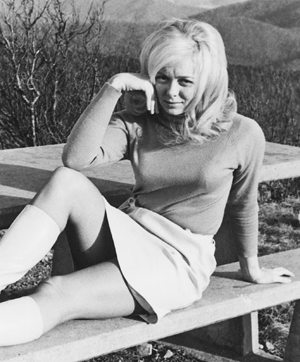 GIVEN ITS essential talking-heads quality (albeit dressed up nicely with graphics and a few props), the new Errol Morris documentary, Tabloid, is as salty as it is strangely lighthearted. No one's life is at stake this time, as was the case in The Thin Blue Line. Instead, there is merely the question of whether Joyce McKinney, a Wyoming beauty queen, committed a very unusual sexual assault 30 years ago. "It's a love story," McKinney insists. And if you believe her when she insists something, you're headed for trouble.
In 1977, McKinney went to England to get her hands on the love of her life, a Mormon missionary she had met back in America. ("I did what any American girl would do.") Three day's dalliance in what she describes as "a magical moonlit cottage" in Devonshire made her the well-reimbursed toast of the English tabloids. (Lucky thing for Morris that the public exposure of the viciousness of the News of the World coincides with the opening of this movie.)
Unfortunately, McKinney got caught in the rivalry between two other fish wraps, the Express and the Daily Mirror (the "Daily Brute" and "Daily Beast" of Evelyn Waugh's novel Scoop). While one rag presented her as a gun-toting romantic in search of "a melding of two souls," the other did some digging and found a richly unsavory past. McKinney denies this, as well she might.
The truth? It's out there somewhere. Morris gives you a choice: smirking British tabloid journalists, relishing scandal ("There was something in this story for everyone") and a first-person account by McKinney, a bail-jumper who served a little time in the very same Holloway Jail saluted in the Kinks tune. McKinney teaches us one unarguable lesson: For a person seeking affection, there's no substitute for the "age-old wisdom" and "Christ-like love" of their doggies—though even they can turn on you.
An incredulity-struck Morris rolls around in this berserk, muddy story, framing it with found footage and an uproarious clip from Zeffirelli's 1972 Brother Sun, Sister Moon. Keywords the witnesses use to shape memories flash onscreen, like the subliminal titles in a John Waters movie. It's a reminder of how people use phrases, and even simple, single words, to reinforce their memories of how the past absolutely must have been.
Tabloid
Unrated; 87 min.
Opens July 22