Movies
The Help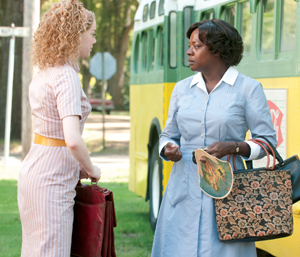 THE ROOTS of the story of Titus Andronicus go back to the Roman poet Ovid. The Help (a relatively benign and bloodless variation) proves once again that Shakespeare certainly knew sure-fire material. The bestselling book's notorious "Terrible Awful" incident, staged in the segregation-era Mississippi, seems like due justice to the film audience. The story is, on the surface, patronizing, a late-harvest variation on The Member of the Wedding.
Struggling writer Skeeter (Emma Stone), just out of Ole Miss in the early 1960s, seeks oral histories from the black maids who keep things running in Jackson, Miss. Skeeter's studies are perhaps dangerous. Times are politically volatile; we know this because we hear Bob Dylan on the soundtrack and see Medgar Evers on TV. Still, Skeeter presses her friend's servant Aibileen to talk. As that maid who first tells her story, Viola Davis is very good with wisdom born of pain; she's the actress Oprah Winfrey always wished she was.
Decked out in rebellious curls, the liquid-eyed Stone builds what's going to be deserved stardom with a variation on her character in the spirited Easy A. Stone's getting so funny and so damned good she even steals a scene from Allison Janney.
Cuddly yet furious Octavia Spencer revamps another archetype at Minny: the bulky, shrewd black maid, reminding the audience how much they used to enjoy that kind of comedy in 1940s films. As the employer yet protege of Minny, Tree of Life's Jessica Chastain also shines as a curvy, good-hearted white-trash refugee from Sugar Ditch. That tragic real-life town's name reinforces the story's metaphor of raw sewage as a symbol for stinking, half-buried racism. And Chastain is quite comic and plaintive as a victim of snobbery. Sissy Spacek has a small but key role as the slightly senile mother of the hateful clubwoman Hilly—playing this snobby villainess given just desserts, Bryce Dallas Howard delivers her first really forceful performance.
Confident actor-turned-director Tate Taylor handles this cast in What Would George Cukor Do? style. The art direction, photography and musical selections (except for the Dylan needle-drop) are all first-rate, even if the accents are shaky. Of the white cast, only Spacek really has it right. To hear her pronounce the word "Biloxi" is enough to get nostalgic for the South.
PG-13; 137 min.