Movies
The Hunter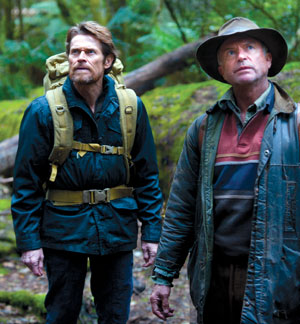 The last Tasmanian tiger died Sept. 7, 1936, as a result of a zookeeper's blunder. Since then, the striped, wolf-like beast—the last member of a family more than 30 million years old—has been sought by naturalists in the still-very-wild woods on that same remote island.
The Hunter is based on Sydney novelist Julia Leigh's tale of a nefarious corporation seeking the mythical creature in hopes of discovering secrets it can exploit. The dubious plot works, thanks to Willem Dafoe's particular urgency as the mysterious Martin David, the hunter hired to find and shoot the tiger. He lodges in a house deep in the Tasmanian forest, and finds the accommodations terrible. The lady of the house, Lucy (Frances O'Connor), is comatose from tranquilizers, and her two children are running feral. The little girl of the family lets Martin know it's not the lightbulb in his room that's burnt out: "Naow, it's no fuckin' power.'
They've been troubled ever since their father disappeared into the woods many months before. Sam Neill plays a trusty neighbor who looks in on this family. But we have suspects in the vanishing. The courts are challenging the local loggers' right to denude the island; they're as hostile as the rustlers in a Western. And they suspect all outsiders of being hated "greenies'—ecologists.
Dafoe, setting up his illegal traps and snares, is silently compelling; his raw thin face stands out in the fog and the drizzle, and though he's a man without a past, he has one strong mark of personality: He loves baroque opera. It's nice to see a love of classical music indicating individualism instead of fascism.
The Hunter is also loaded with location footage of Tasmania. It could be said the visuals encourage visitors, while the story of danger discourages them. The trouble is that these bogs, fernlands and streams have been given a serious digital color grading, probably because of the constant shifts of light and weather.
Australian TV vet Daniel Nettheim doesn't break any new ground, but he has a light touch with the precociousness of the children; that touch has to fail when the heavy ending arrives. And what David does to survive—trapping or shooting pademelons, or whatever that small stuffed-animal-like creature is—is rough for animal-lovers.
The Hunter
R; 100 min.