Movies
Romping Room
France is a hotbed of cheerful sexual politics in Michel Leclerc's The Names of Love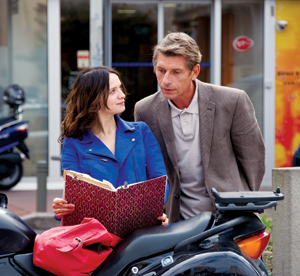 EVER SINCE exploitation master Russ Meyer told me that the dead German soldiers always carried the best porn in their pockets, I've been skeptical of the Reichian theory that what fascists need is a good shag to unblock their chakras. The Names of Love, a frothy, sexy, sweet Gallic insult to the intelligence, trades in this idea. The film deals with France in turmoil and suggests that love will find a way.
Like her twin sister California, France is 1,000 percent ungovernable. The theme of this rom-com is about making peace with people of the other side of the political spectrum. The Names of Love seeks their humanity where they might have mislaid it—in the bedroom.
Jacques Gamblin plays the cautious Arthur Martin (the name might be idiomatically translated as "Kenmore Stover") is always seen with his tie tightly knotted; his job is to necropsy dead birds for signs of the dreaded flu. During a radio appearance, a free-spirited kooky girl named Baya Benmahmoud (Sara Forestier) gets in his face about his government's insane overcaution.
They are both left-wingers, though; Arthur voted for Lionel Jospin (a more successful version of Ralph Nader). Baya is a flamboyant if absent-minded militant. The promiscuous Baya calls herself "une pute politique"—a political whore who sleeps with right-wingers in the hopes of opening them up to a world of liberation.
The Names of Love features two salient points. First off is the old-time and inarguable charm of a female star who keeps losing her clothes. No matter how august the occasion, Baya is unconscious of the way her left breast keeps saying peek-a-boo. The scene is so purportedly funny they put it in the trailers: Baya has such "Gagatude" that she leaves the house undressed. She actually gets on the Metro butt-naked somehow before she realizes what she's doing.
Writing this makes me sound like someone thundering against the sight of a naked babe, but Forestier gives this guy-fantasy of a part her all; she's never so inane you can't bear it, just almost so. I find more interest when there's consent in the equation. A girl who chooses to take off her clothes is more erotic than someone who forgets to put them on. (And to be fair, Baya does choose to take her clothes off a lot, also.) But the basic idea here is of childish girl malleability. Thanks to an incident in her youth, Baya went slutty. Aren't great sluts born, not made?
Hence the second point of this comedy, the political crosscurrent—France's uneasy memories played out as a love story. Martin's mother was Jewish, and she lost her parents in the roundup; Baya's uncles were murdered in the Algerian civil war; and Martin's father, stationed in Algeria, might have been involved in the atomic testing France performed in Africa. Director Michel Leclerc teases out the harmonies between the couple as well as dissimilarities; postmodern narration and Woody Allenstyle episodes and skits pad out the story.
That rich red fury that strikes people who care about things is, here, mostly considered a style. The Names of Love's most feather-headed moment suggests that the place where a child first tasted whipped cream ought to be as well marked as the place where the infant might have been rounded up by the S.S. during the war.
This France seems unreal to us in America, where the left has so little wiggle room: plazas named after martyred Chilean president Salvador Allende, for instance, not to mention naked girls walking around, not tranquilized and sent to the mental hospital. It would be easy to fall for this two-pronged fantasy. Comedy is the frosting, said writer Michael O'Donoghue; you use it to try to feed people something they're reluctant to swallow. The resolution of The Names of Love in a moment of resounding conformity shows just how stale the cake is under its whipped cream.
R; 100 min.
Opens Friday