Movies
The Salt of Life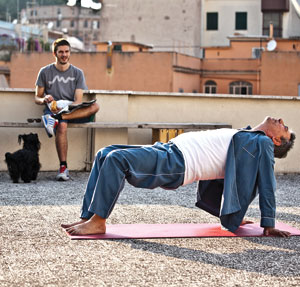 MASTROIANNIAN calm and equanimity: star/director/producer Gianni Di Gregorio has it, and that correct, old-worldly style sells comic material some would find a little creepy. Di Gregorio's follow-up to Mid-August Lunch is The Salt of Life, in which a Roman retiree (Di Gregorio, billed as "Gianni") seeks a young mistress, or at least is open to the possibility.
Mitigating factors: Gianni is a good father. He treats his daughter and her on-again-off-again boyfriend with kindness, even if they have less ambition than a pair of tree sloths. Gianni is less some reprehensible Signor Lecherelli than a Leopold Bloom, discreet and hopeful. Also, in the Trastevere where Gianni lives, it's just a custom for a man of a certain age to have a little friend. Moreover, his time is running out; he sees his fate laid out before him at the park, in the form of an elderly ruin wearing a white fedora that matches the coat of his toy poodle.
Lastly, Gianni's marriage has moved into the dignified stage. "There is a love between us," he explains. That passive sentence says it all. The wife has got business of her own, and he's been cluttering the house ever since he was forced to take early retirement. Fifty years ago, American screens were deluged with Italian sex comedies, and Di Gregorio plays with the received ideas of those days—that Rome is a city of plunging necklines, drastic curves and men dreaming happily and wistfully of women, nothing but women.
The other reason for Gianni's dawdling is he has Hamlet's problem: He lacks advancement. His old crone of a mother, to whom he performs as a servant, lives in a villa and is frittering away his inheritance on champagne and the cards. She's ninetysomething and still going strong. This desire for the money (clean, as opposed to the desire for the other thing) also adds some of the salt the American title refers to. Gianni is perhaps funniest fondling the objets d'art that will be his eventually, like a farmer checking the plumpness of a chicken in his yard.
Unrated; 90 min.