Movies
This is 40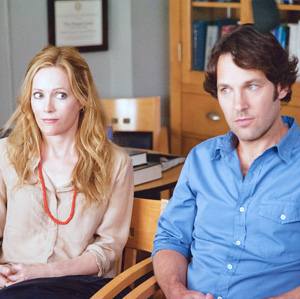 Scenes from the Marriage of an Idiot: This Is 40's Pete (Paul Rudd) and Debbie (Leslie Mann) endure the week before her 40th birthday, which she is cravenly describing as her 38th. Their marriage is under pressure because of child rearing, lack of sex and debt. Neither half of the couple has a good example of how to age gracefully from either of their parents—both Pete's and Debbie's fathers have remarried and started new families.
This symmetry continues in their business lives: Pete is an ex-Sony employee now running a boutique label (old-time power-pop rocker Graham Parker, playing himself, is the low-selling current star). Debbie runs a money-losing clothing boutique with two feuding employees, one slutty (Megan Fox), one wily (Charlyne Yi).
This Is 40 is director/writer Judd Apatow's follow-up to Knocked Up, starring Mann, the real-life Mrs. Apatow, and their two female children as the couple's kids. The attempt to peel back the comedy seems to reveal all the more sitcom undercurrent, all the more vertigo-inspiring navel (and other orifices) gaze. Aging doesn't mean wisdom but instead a montage of ever-more invasive medical procedures: colons plumbed and cavities searched, and Ms. Mann lamenting the decline of her superbly toned body.
Apatow gives us, ultimately, more of a wail of self-pity than a laugh. On the bright side, Rudd looks and acts much like the actor playing his father: national treasure Albert Brooks as Pete's sponging dad, Larry. Larry's second marriage was to a younger woman whose clock was going off, the result being three in-vitro-spawned toddlers: "Go play with your tiny uncles," Larry tells his young granddaughter—the film's funniest line.
Yi and Melissa McCarthy give this film's ever-stalling comedic flywheel a spin or two. The occasional hard laughter echoes with hollowness among the movie's insanely affluent surroundings: This Is 40 (40 minutes too long, that is) is getting at something, but it doesn't get there by 40 miles—not more than 40 people outside L.A. will understand it. This is not a refinement of the frat-pack comedy as much as a tombstone for a subgenre.
This Is 40
R; 134 min.