Movies
Three Stooges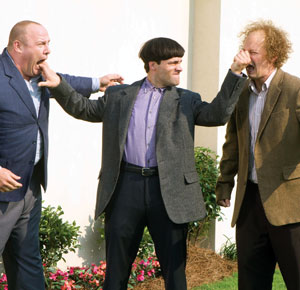 THE Farrelly Brothers' take on the deathless Three Stooges is like the steak that went through the transporter in David Cronenberg's The Fly—it looks right, it smells right, but there's something internally weird about the project after traveling through the dimensions. It could have been a monstrosity. An "updating' or a "reinvention' must have been threatened during this property's trip through decades of development hell. But the film is really quite funny. And except for a "peeshooter' urine fight with a room full of babies, it's not a disgrace. The plot is as thin as some of the two-reeler setups. Dropped off as babies at a Catholic orphanage, the three in adulthood set off on a quest to raise money to keep the place going.
The Three Stooges proves once again that on the whole, acting today is better than screenwriting today. As Curly, Will Sasso is gratifyingly light on his feet and yet fearfully bulky, with the massive, invulnerable head kids rejoiced to see defeat any obstacle. Sean Hayes evokes the moon-man quality of the dismayed Larry Fine, and Chris Diamantopoulos' heavyweight scowl is worthy of the real Moe Howard. (For that matter, young Skyler Gisondo makes a terrific urchin version.)
Together, these Stooges act as more of a sum of their parts. They are choreographed as snappily as their models, those faithful yet despised keepers of the flame of slapstick. One even forgives the message to the kids by the Farrellys at the end to please not poke each other's eyes out in real life. In what's obviously a labor of love, you have to overlook crassness. Product placement for Geico and several popular beers is a kind of finger in the eye, as is the inexpert stooging of the cast of Jersey Shore. (I so much don't want to see Snooki, I don't even want to see her submitted to the wrath of Moe.)
And the clean, dull Atlanta landscapes are too bland a backdrop. There's an America out there—blatant, poor, ugly and mean—a heaven where these stooges could have shone forth like the stars they are.
PG; 92 min.