Movies
Trishna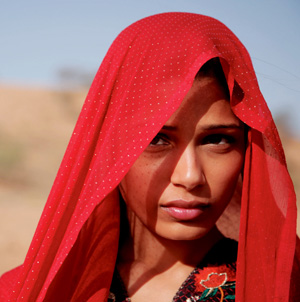 What we think of as a melodrama is actually the reality of the poor. One has to remember this several times during the course of Michael Winterbottom's Trishna. The possibility of this story's level of injustice gives Winterbottom's movie some stature—even though Trishna crumbles for a series of reasons.
One of those reasons is Freida Pinto, who has the lead role in this loose, transplanted version of Thomas Hardy's 1892 Tess of the d'Urbervilles. Tess is the ur-melodrama of the Victorians: a girl taken by fate as a hawk takes a mouse, crushed by the class system.
In this version a group of pals from England are touring India. The privileged gang have an evening with a lot of Lonely Planet–Thorn Tree chat over a spliff concerning the most authentic places to visit. ("All you do in Goa is go to the beach. What could be more un-Indian?") The host is the raised-in-England princeling Jay Singh (Riz Ahmed), who is supervising his father's luxury hotel in Jaipur.
During the course of a visit to a remote Jain temple, Jay spies Trishna (Freida Pinto). They have a second encounter after Trishna has been injured in a traffic accident that destroyed her father's truck. Jay offers the young lady a job at his hotel. It's the beginning of Trishna's downfall.
Jay's father (the eminent actor Roshan Seth) comes for a visit; being blind, he feels Trishna's face and exclaims over her beauty in what looks like improvised dialogue. (Jay chides his father, "You're just making it up, aren't you?" It seems likely.)
But then the inevitable becomes evitable when Jay seduces the country girl who works for him. Trishna becomes Jay's kept woman.
Jay and Trishna get away to Mumbai and end up on the fringes of the Bollywood business, with appearances by actual Bollywood stars at the cafes. (It's almost an inside joke: the man playing the Angel Clare part in this story is looked at as a show business "angel.")
Winterbottom (The Trip, The Killer Inside Me, etc.) serves up a huge amount of the subcontinent. We're supposed to condemn directors who go touristy, but I'm never sure why. He's trying to make a thorough portrait of India, from the trad villages in the scorched northwest to a surfside condo in Mumbai. Winterbottom's energy is unfocused but undeniable. It's even hard to complain about his repetition: first the goat shot, then the monkey shot, then the monkey and the goat shot. There's maturity in Winterbottom's dedication to tragedy when he's capable of comedy (especially when directing Steve Coogan).
Trishna is certainly one of his most ambitious films in terms of the number of camera setups alone. It's the director's third Hardy adaptation, after the dire Jude and The Claim, which transplanted elements of The Mayor of Casterbridge to the Gold Rush era.
But everything in Trishna looks as if it could have used more rehearsal. The soundtrack presents some soulfully impressive Indian-pop by Kavita Seth. Like the music, the visuals set a mood the actors seem to still be figuring out. And when the emotions get turbulent they seem to have come out of nowhere.
In the last third, it's as if the old India re-establishes itself: the pre-Raj India of princes and harems coming back to life at Jay's luxury hotel, which is carved out of an old palace. Here, Trishna becomes a concubine. She's bidden, essentially, to serve lunch and bend over for her sated, drowsy and increasingly truculent master.
It's in this last third where Pinto has to show her acting abilities. What she shows, as she did in Slumdog Millionaire, is that she's an extremely beautiful and passive non-actress. Even the climactic last shot has to be freeze-framed, likely because Pinto couldn't make it work in motion. Winterbottom can light up India, but he couldn't light up Freida Pinto.
R; 117 min.