Movies
Continental
Two new features examine the seamy and the sentimental sides of life in Africa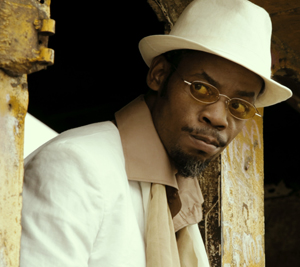 THE SAYING here is "Kina' la belle, Kina' la poubelle": "Kinshasa the beautiful, Kinshasa the garbage can." Viva Riva!, one of the two African films arriving this week, is the first really exciting gangster film we've seen in months. Made in the Democratic Republic of the Congo, it's director Djo Munga's story of a stolen truck laden with a couple of thousand liters of gasoline: good money in a city of fuel shortages.
The truck has been heisted by the resourceful, romantic but completely crooked Riva (Patsha Bay). Not far behind Riva is a white-suited crime boss, Cesar (Hoji Fortuna), who wants the gas back. The boss extorts a lesbian soldier named Malou into helping him find Riva.
Riva, seemingly because he doesn't have enough heat on him already, starts macking on a kept woman played by Marlene Longange, all heavy eyelids and pouting lower lip. Her keeper is a vicious local gangster. This breathless Jim Thompson-style tale is full of triple-crosses, and even the local priests are on the take.
A scene explaining why Riva took the wrong path isn't all that necessary; all we have to do is see the city to know why he's gone bad. Vast as it is, Kinshasa glows by firelight during one of the many power failures. Some swank colonial balconies and rotting, absurd, Florida-style villas remain from the Mobutu kleptocracy. The nightclubs are hot and lively, with gold and silver lam-shimmering in the bronze light or magenta neon wriggling through wavy glass bricks.
Viva Riva! isn't a cheap holiday in other people's misery. Munga isn't drunk on torture, and he's more into delivering information than raw sensation. The editing is mesmerizingly efficient; you aren't allowed a chance to look away.
In one scene, the memory of the Congo fight between Ali and Foreman (memorialized in the documentary When We Were Kings) gets referenced in a poster. Debs Gardner-Paterson's Africa United has a character called Foreman, named in honor of the Rumble in the Jungle. Maybe having the loser in that bout as a namesake is the reason why he had trouble.
Part of the From Britain With Love series, Africa United begins with the novel use of a condom. A child who knows what he's doing can inflate it, wrap it with a plastic shopping bag, tie it snugly with twine: voila, a soccer ball.
The bright Rwandan orphan kid Dudu (Eriya Ndayambaje) is the child "manager" of his buddy, a more affluent young football hopeful. The problem is that they have to get to the World Cup in South Africa, without money or papers. As they make their way south, they pick up fellow travelers, each representing the challenges facing Africa—a traumatized former child soldier (the aforementioned Foreman) and an underage bar girl among them.
Dudu's sister, who wants to be a doctor, represents the hope of the future; we know she is, because the film literally tells us she is the hope of the future.
The screen gets soaked in African landscapes during the 3,000-mile journey with fine footage of the great lakes and guest appearances by a hippo, a leopard, a lion and a zebra.
Dudu is a storyteller, so there are cartoon intervals that address, in sideways fashion, some of the other problems in Africa: malaria and lack of sanitation, among them.
In short, it's one "jai ho!" away from turning into Slumdog Millionaire. Bright kids might be interested; if it weren't for nerves about the readymade condom project at the beginning, a distributor probably would have picked this up already.
Africa United has only one problem: It's absolutely shameless. Dudu is hiding something, hiding it with a kind of smiling-through-the-tears bravery at its most schmaltzy.
So you're given a choice between fantasies—all wise child or utterly fearless gangster. Why one decides in favor of Viva Riva! is the not the scenery but the texture. Africa United gives you 3,000 miles that goes a few inches deep, whereas Viva Riva! takes you to an unimaginably bad capital city, and you sink into it.
Viva Riva!
Unrated; 98 min.
Opens Fri at Camera 3, San Jose
Africa United
Unrated; 88 min.
Thursday, 7pm, Saturday, noon, Camera 3, San Jose