Music & Clubs
Against Me!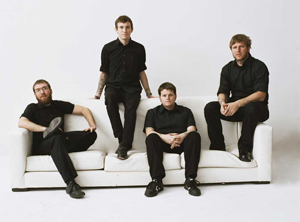 IT'S BEEN seven years since Against Me! bubbled up from the Florida swamps with their debut, Reinventing Axl Rose. After some brushes with mainstream success when their last album, New Wave, found a home amid the Warped Tour masses, they've been laying pretty low.
That didn't deter hordes of fans from turning out in San Jose this past weekend. Against Me! was set to play a Dec. 20 gig at 924 Gilman in Berkeley on their recent tour. When it was canceled suddenly and without much explanation by the venue, intrepid San Jose promoter Eric Fanali struck while the iron was hot. After an excruciating 40-minute set change, Against Me! played to a sea of black T-shirts (and a few bare chests) at WORKS/San Josť gallery on First Street in downtown San Jose.
Against Me! are at a very common crossroads: they could easily continue to play for fervent crowds, or, with a little elbow grease and some sacrifices, go pro. Having released their last album on Sire Records, the age-old "what's punk, what's not" debate looms over their heads everywhere they go. The boys in Against Me! seem committed to keeping one foot firmly on the ground. Their sound is outgrowing their choice in venues—to hear their last record, the band sounds like they're shooting for stadiums instead of bars, 'concerts' instead of 'shows.' For their appearance at WORKS, their more polished tunes were converted into their earlier sound, the murky, militaristic stomp they originated in Gainesville. They still have the hardware for punk rock, it's just a little more user-friendly these days.
The band opened with "White Crosses," the title track of their incoming album, a cathartic, furious blast that illustrates why Tom Gabel's songwriting prowess is a force to be reckoned with. Though he recently defected to release a solo record, Gabel is still the beating, snarling heart of Against Me!, and the fans love him for it. "Take care of each other out there," he pleaded with the crowd after a wild pit broke open within the first few chords. "Fuckin' A, man." He didn't say much else, leading the band in a barrage of their radio hits sandwiched between more obscure songs. The crowd knew the words to all of them, shouting the choruses back at the band and demanding an encore within seconds of them leaving the stage.
Though they're probably too proud to do so, the folks over at Gilman should be kicking themselves.