Music & Clubs
Albert Square & the Pillowfights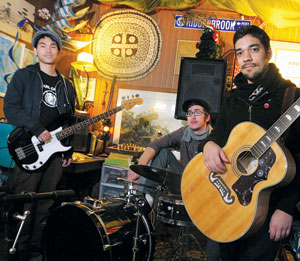 TWO OF the South Bay's most prominent punk bands, the Albert Square and the Pillowfights, are calling it quits. It's not entirely a coincidence that they are playing their final show together—they've shared many bills over the years, including some of their very earliest and even a recent West Coast tour. "It is very strange that it just happened. It just seemed appropriate to play our last show together," says Albert Square guitarist Sim Castro.
Indeed, the bands have always been very closely linked. They half-jokingly referred to themselves as the last of the "Bracket bands." It's a reference to how they got their start four years ago, when they and a handful of other bands used to practice in their friend Ben Bracket's garage. Bracket's mom basically gave her son's friends a much-needed place for their bands to practice. All the other bands have long since broken up.
"Nobody practices there anymore. It's like an end of an era. It was a very popular area for a while," says Pillowfights singer Daniele Bailey.
As the two groups moved out of the garage and into actual venues they always made a point to play together frequently despite having two totally different takes on punk rock. Albert Square play early-'80s-inspired eclectic post-punk. Pillowfights play sugary sweet pop-punk. The loss of these two bands is a blow to San Jose's already tiny punk scene.
The reason for Pillowfights' breakup is simple—Leo Henderson, their bass player, is moving to Seattle. According to Bailey, "Leo can't be replaced. He's too important."
Albert Square's breakup is more complex. They struggled for over a year to keep a drummer in the band. In that time, Castro moved up to San Francisco. Practice became more difficult to orchestrate and everyone was having a harder time making the band a priority. "It just seemed like the logical decision to say let's just call it quits and move on to other things," Castro says.
So far, Castro has already moved on to playing solo shows and getting together with different musicians in the hopes of forming a new group. Bailey wants to start a new group also—though this time she wants to play an instrument, not just be the lead singer, something she's never done before.
Sat., Dec. 17
8pm; $8