Music & Clubs
Split Personality
Coming off the Warped Tour, the South Bay's Anya and the Get Down mix it up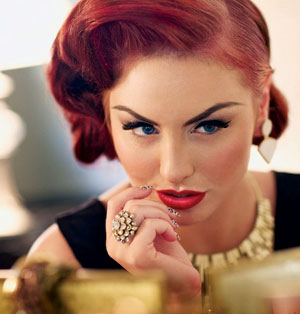 I TEND TO embrace schizophrenia." As Anya sits in a coffee shop in downtown San Jose, she's talking not about her mental health but about her love of mashing up genres. The striking Russian-born singer and songwriter exudes the classic '50s style that defined her role in the South Bay crew Soapbox Melodics, her project with Dirty Nate that melded hip-hop rhythm with jazz sophistication.
She went by her full name then, Anya Kvitka, but for her new solo project, Anya and the Get Down, "you don't have to worry about my last name, because everything is just 'Anya.'"
That's not all that's changed. As audiences at Left Coast Live discovered, the South Bay performer has found a whole new way to embrace musical schizophrenia with her band the Get Down. They can do a full-tilt, swinging cover of Groove Theory's "Tell Me" or Anya's own song "Baggage" with guitarist Matt Gonzales (also of Blank Manuscript) strumming a breezy acoustic riff. The band's sound touches on everything from rock, soul and funk to hip-hop, dubstep, reggae and, of course, jazz. In Gonzales, bassist Azim Alhark and drummer Randy Fard, she's found what she considers not a backing band, but musical partners who are fully on board with her stylistic MPD.
"That's the beauty of this whole situation. Everybody's just so open. Matt's played in everything from rock bands to Mexican folk bands. Azim's played a lot of funk and soul. Randy's background is mainly reggae," she says. "That's what I mean when I say there's no leader. When we have a reggae song, Randy will be like 'We should do it like this,' and it ends up sounding better because he knows what he's talking about. Everybody's so down to collaborate."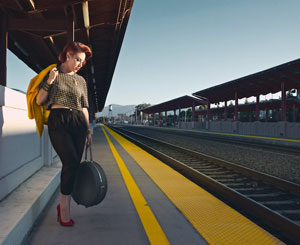 At just 24, Anya has already lived quite a few musical identities. As a child growing up in Moscow, she began learning classical piano. Her family moved to Cupertino when she was 7, and she continued her training. She attended UC–Santa Cruz, where in 2009 she got her first taste of fame as part of the a capella group Acquire A Capella. They filmed a YouTube video of themselves covering "I'm on a Boat," the song by the Lonely Island that became a sensation on Saturday Night Live. In Acquire A Capella's version, Anya sang T-Pain's part. Their video took on a life of its own, with Entertainment Weekly suggesting online that it was perhaps funnier than the original, and an airing on G4's Attack of the Show.
"'I'm on a Boat' went crazy viral," Anya recalls. "Literally within the first week, we were on the front page of YouTube. I started getting all these marriage proposals on Facebook."
Another project that got her attention is Soapbox Melodics. She met Dirty Nate in 2007; it was the beginning of an unorthodox partnership. "Nate very much represented that gritty hip-hop. I love hip-hop, I love rap, that's what I listen to all the time," she says. "But Nate really grew up in that, and it was a great influence in his life. And me, I had so much jazz, and opera even, all this classical stuff. It all came out in my voice, and our love of hip-hop really came through, and it was always this fusion, really."
Though Soapbox is still together, Anya realized this year that she wanted to focus her attention for now in a different direction. She found her bandmates just in time to play the Warped Tour in what became a whirlwind summer. "We actually got together to record, and then the Warped Tour was looming, so we got together for a week of intense rehearsals in June, and put together a set. It took off from there," she says. "We just all have a really great chemistry together, and we have fun."
Anya writes like a rapper, but she sings in the classic style of her idols, who range from Aretha Franklin all the way down the line to Amy Winehouse, whom she covers regularly and whose death in July was quite a blow.
"Amy Winehouse was a great throwback to what I value in music," she says. "Honestly, losing her was more tragic than people realize. In an industry that's so full of completely contrived, generic stuff, she brought back emotion and soul, realism and poetry." Currently, Anya is pulling together tracks for her first album, hoping to put together a cohesive record while still showcasing all of the different facets of her sound.
"If you're an actress, and you want to be considered really good at your craft, you're going to pick roles that are completely different from one to the next, to the next, to the next," she says. "You want to be able to have people believe you in each role. That's essentially what I'm doing, what I hope to do, in taking on these different styles. I don't do it intentionally, it's not calculated. I'll just hear a beat, and start singing it in a reggae way. People will be like 'What the hell?' I'm like, 'I don't know, it's just how it came out!'"
Anya and the Get Down @ Homebass
Nov. 25; 10pm; $10