Music & Clubs
Black and Blues
The Black Keys have made a point of being everywhere this past year—
and San Jose is next on the list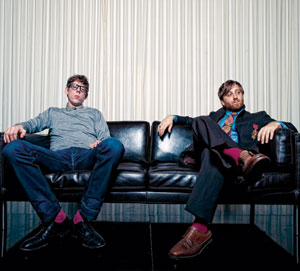 SUCCESS is a matter of perspective. The same could be said of time, of quality. When we speak of a band's rise, we're talking about gradual cultural awareness. For the Black Keys, their ascent from indie mainstays to festival top-billers didn't come as quickly as it may seem.
They didn't, for instance, release one album (Brothers), and suddenly find themselves with a No. 1 single, a bestselling record and five Grammy nominations (though they did, indeed, achieve all of this in the short span of a single year).
The time it took for us to first hum a Black Keys song, for us to tell our friends about a Black Keys album, and for us to see the Black Keys perform at one of about three major festivals that they were subheadlining, was short. But the band took the better part of a decade to enter the dialogue. Fans have been following them since 2001; everyone started following them in 2010. This is what the Black Keys do: They make you lose sense of time; they make you do it willingly.
After a year that's seen them perform everywhere from down South at the Bonnaroo Music Festival to a rumored gig in South Africa, the Black Keys have become the band that everyone's watching because there seems to be nowhere to turn where they won't be.
For instance, San Jose fans need look no further than their own backyard, as they prepare for an exclusive performance at San Jose City College to celebrate the grand opening of the Microsoft Store in the Westfield Valley Fair mall. The performance is free for the first 700 people to visit the store on Thursday, Nov. 10, upon which they'll be given two tickets to either the Keys show on the 11, or to another show, Joe Jonas on Saturday (the latter comes with one VIP pass to meet Joe Jonas after the show). General admission tickets for both concerts will be available as supplies last.
Born in Akron, Ohio, Dan Auerbach and Patrick Carney (32 and 31, respectively) formed a bond at an early age, first through mutual friends putting together a flag football team and eventually through a shared love of music. For Auerbauch, his infatuation was rooted in classic blues and bluegrass; Carney's ears were drawn to the alternative-rock sounds of Pavement and Devo, the latter also hailing from Akron.
In time, their passions would dovetail, and a mere listen to their two-man band confirms the perfect blend of these two interests: the smoky drawl of underground blues, with the searing riffs of alt rock. In 2002, they released their first major album, The Big Come Up, a prophetic title that set their expectation for the album's success.
Their first major singles, "Leavin' Trunk" and "She Said, She Said," while successful, were both covers (the former a traditional blues standard; the other, a Beatles song). It wasn't until their second album, Thickfreakness, released in 2003, that their original songs began to build up steam.
Four albums and six years later, the release of Brothers catapulted the Black Keys to major name recognition, and a sound so definitive that a mere guitar riff paired with Auerbach's scratchy vocals (distorted using Soundtoy, and sometimes simply placing the mic on his forehead) can elicit yelps from a crowd.
For a generation of listeners obsessed with musical nostalgia (vintage vocals, '80s synthesizers, the sudden surge of lo-fi enthusiasts, higher sales for vinyl than CD), the Black Keys are the ghost of music future: drenched in the haze of the bluesmen that came before them but with eyes firmly planted on what lies ahead. With a seventh album, El Camino, scheduled for early December, the Black Keys show no sign of slowing down.
Their performance on Saturday Night Live this past January helped bring the show to its highest ratings in its entire 37-year run. Jim Carrey was the host that night; does anyone who watched even remember that?
The Black Keys
Friday, 7:30pm