Music & Clubs
Citabria
San Jose's Citabria has turned four musical upbringings
into a driving passion for perfectly crafted rock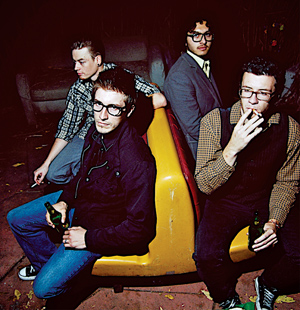 KEVIN AZEVEDO can't remember when he started playing drums. According to his parents, it was some time around his second birthday.One moment that the drummer for San Jose rock band Citabria does remember is when he decided to make music a serious pursuit. "When I saw Van Halen on MTV, I knew I needed to find some good musicians," Azevedo says. He was 8.
It took a while, but in 2008 Azevedo and bass player Edgar Fernandez found Nate Dias, a guitarist with just as much talent and drive as they had. Like them, he was a person willing to spend every spare minute of his time sculpting their songs till they came out right.
The trio spent the next year and a half auditioning lead singers, which might seem like a long time, but when it comes to music, Citabria doesn't believe in cutting corners. "We are perfectionists. We are picky as hell," Azevedo says.
The one person who was able to pass the scrutiny of the audition, Leopoldo Larsen, was no beginner. Originally trained as a flamenco guitarist at age 6, Larsen would eventually join nü-metal band Zero Mind and sign to a major label. The band fizzled away, but Larsen left it wiser and with a few good connections in the music industry.
Once Larsen joined Citabria, the group played just one show before taking an entire year off to make an album. The Stereo Guillotine was recorded during the off-hours of the recording studio Larsen worked at. The band members had long nights at their disposal to lay down their parts, which they took full advantage of, each member recording their parts separately. "I spent, per song, eight hours by myself usually," Dias recalls.
The result was a highly polished alternative-rock album in the vein of Tool, Muse, Dredge and Mars Volt. It was full of lush, pop-inspired vocals; intense drumming; and gorgeous, complex guitar work. Though the songs are well-crafted, they are also densely packed with mood and feeling.
All the members of Citabria have been playing music their whole lives. "I grew up around Spanish music," says Fernandez, whose father played in a classical Spanish guitar trio and taught his son to play flamenco when he was just a boy.
Dias also grew up with a musician father who played in several cover bands. Dias picked up the guitar at age 12. He had big dreams of being a professional musician, but he considered himself a realist, so he went to "real school" after graduation. When it didn't work out, he enrolled in the Musician's Institute in Los Angeles to study recording engineering. "I already knew how to write songs. I wanted to teach myself something I knew nothing about. I don't like relying on other people to make myself successful," Dias says.
Azevedo's father, a Portuguese immigrant, played in several traditional Portuguese dance bands, something that Azevedo did too when he was in junior high school.
"Music is in all our blood," Dias says. What is also in their blood is ambition and a passion to carefully craft music. This patience and attention to detail has allowed them to create some technically proficient, dynamic rock.
For their second album, they have recruited producer Bill Cutler to help out. Dias convinced Cutler to work with them by telling him, "We are not rock stars. We are musicians. My idea of success is to not have a day job. I just want to play music." Cutler appreciated their determination and was comforted knowing they wouldn't quit a few years down the road.
While the members of Citabria want to go far in the music industry, they don't want to lose control in the process. "I don't think we want a label unless it's on our terms," Azevedo asserts. After only a short period of playing together as a four-piece, they've had a steady stream of local gigs to growing crowds, and have secured a spot in the San Diego Indie music festival. Perhaps strangest of all, they are going to be playing live on Portuguese TV on April 16. "It's the Portuguese version of American Idol. We are playing during the half-time event on the season finale," Azevedo says.
Saturday, 9pm
$8