Music & Clubs
Punk Rock Remix
From mixtapes to stage setups, Redwood City's Comadre takes a new approach to hardcore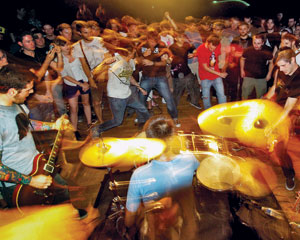 THERE'S PUNK ROCK, and then there's Comadre. For this Redwood City band, even the DIY ethos doesn't quite cut it. They hold themselves to an even higher standard, with their meticulous, hands-on involvement in every aspect of their music, from live shows to recording. And their ideas are sometimes extreme, even in the punk world.
Take, for instance, their vision of the perfect Comadre show: playing on the floor in the middle of the venue, with the audience sprinkled around them in a circle. They want as little separation as possible between band and audience. "There's a different kind of energy to it. Everybody feeds off of each other. You feel more in touch with the people you're playing with," says guitarist Jack Shirley.
As an underground touring band doing everything on their own dime, Comadre can't always control every circumstance of their shows, but they do everything they can to create precisely the live experience and sound that they want. They eliminate variables by putting great care into working out the best location for their gear and the band members' positions. They bring their own PA instead of relying on the venue's.
"We worked very hard to make our sound a certain way. The way we're all set up around each other, the way our amps are positioned. The height of everything," says Shirley.
Their approach to releasing music is just as unorthodox. A few years back, they started releasing free online mixtapes, something common with hip- hop artists, but not at all widespread among punk rock bands.
"It started out just as leftover tracks. As we kept going, it's gotten more involved. Now they're at the point where they're release worthy," says Shirley.
They are also entirely different than their standard albums, which stick to being straightforward, screaming punk rock records. The mixtapes include remixes, collaborations with other bands, weird ideas and even guests tracks by friends' bands. So far they've released five of these free mixtapes with more time being spent on each one. With all this focus making mixtapes, Comadre haven't recorded a proper full length in five years. They plan to take some time off next year to record a new album.
Comadre have gained a sizable following in the underground hardcore scene with their energetic, passionate music that Shirley describes as "loud, fast and screamy." The music underneath the vocals pulls from many different subgenres of punk, like hardcore, pop-punk and heavy indie rock. The vocals on the other hand stay pretty much the same.
"We can get away with anything musically and it still sounds like us. Without the screaming, it's too much of a departure of what the band sounds like. We try really hard to not put any melodic vocals into our music. It feels too polished and poppy," Shirley says.
Labels, big and small have expressed interest in signing them, but Comadre have chosen to continue to release their own music. The decision has less to do with labels wanting to change their sound, but more about how the labels would allow them to record their albums.
"Their aim is to just make money, so they cut costs as much as they can. We're looking to make something that's really cool, and not really worry about the cost so much as long as we can make back what we put into it," Shirley explains
As far as Shirley is concerned, Comadre's music has never been terribly ground-breaking: "We say it's punk rock. There's so many subgenres of indie heavy music. We incorporate many of them. It's easier to say we're a punk rock band."
The influence that Comadre has had on other bands has often been less about their music and more their atypical ideas and DIY philosophies.
"When someone tells me that your band influenced me to put out a record myself and play a show where we're not playing on a stage or doing backing vocals without microphones, that's cool to me," Shirley says.
Comadre
Saturday; 8pm; $10