Music & Clubs
Dot 3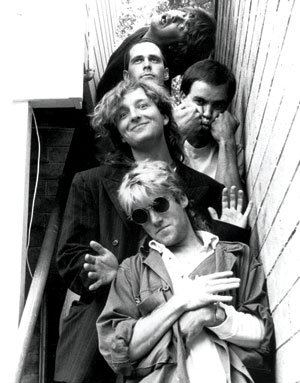 ONE OF THE weirdest bands to emerge from San Jose in the late '80s was Dot 3. The local music scene at that time was growing and the bands were all working closely together to make it a lively scene. Dot 3 though, just kind of did their own thing.
"We lived in Dot 3 Land. We didn't have a lot in common with the other bands musically. We were just different," says guitarist Kenny Schick.
While most of the bands were playing post-punk or roots-rock, Dot 3 were mixing funk, afro-beat and new wave, usually doing so in strange keys. There was little singing, mostly just chanting vocals and long instrumental sections. Still, despite the peculiar ingredients, Dot 3's songs were actually catchy and the band drew well. They opened for the Red Hot Chili Peppers, Fishbone, Faith No More and Primus. Actually, Primus opened for them on several occasions.
"They were unknown. We thought, man, here's a band that's even weirder than us—what chance do they have if we are having a hard time getting famous?" Schick remembers.
Fame was indeed just out of reach for Dot 3. They had labels interested, but the only one willing to sign them was All Ball Records, a small indie run by former Pere Ubu guitarist Tom Herman.
The Red Hot Chili Peppers' management was seriously considering signing them, but then Chili Peppers leapt into mainstream success and Dot 3 got left behind. They broke up in 1991, but will reunite this Friday at Blank Club with Neosoreskin, an even weirder band formed by former Skankin Pickle bass player, Mike Mattingly. They were a highly technical, chaotic circus-ska band that wasn't too far off from Mr. Bungle.
"I ended up hooking up with a lot of really interesting musicians that were capable of doing things that I felt most people I had been playing with weren't able to pull off. It pushed me to go farther," Mattingly says.
Some of those musicians came from Dot 3, including Kenny Schick. By the mid-'90s, their bizarre live set and complex song structures earned them quite a reputation locally.
"We had a run for about 8 months where I thought it was going to take off. And then it didn't," Mattingly says. Since their breakup in the late 90s, they've reunited once, at a memorial show for Brownies lead singer Tim Kahihikolo.
The third band on the bill, Bad Dog Sit were a quirky, new wave pop band also part of the late '80s local scene. Their lead singer, Steve Devlin actually taught Mattingly how to play music back when they were teenagers. They've played only one reunion show since their breakup in the early '90s.
Fri., Nov. 18
8pm; $10