Music & Clubs
Taking Back South Bay
Sacked from Taking Back Sunday, Matt Fazzi rebounds with San Jose's Happy Body Slow Brain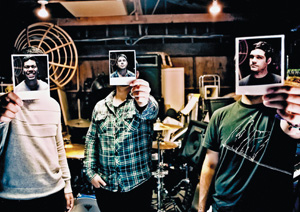 JUST ASK San Jose native Matt Fazzi how it feels to be kicked out of a gold-record-selling, hit-single-generating major-label band, and he'll tell you: pretty damn good.
"I'm in a much happier place," says Fazzi. Just five months after Taking Back Sunday announced that Fazzi had been dismissed from the band (along with bassist Matt Rubano), the guitarist and songwriter has already released his first record with Happy Body Slow Brain, who play Homestead Lanes on Saturday. Though he now lives in L.A., he based his new band in his old stomping ground of San Jose, where the two other members—multi-instrumentalist Isaac Boliver (who also played in Taking Back Sunday) and drummer Eduardo Torres—live.
Even Fazzi seems a little astounded at how quickly the Happy Body Slow Brain record, Dreams of Water, came together. Though he first began fooling around with the project in 2007, he threw himself into it this spring. Many of the songs that ended up on the album are ones he had initially written with Taking Back Sunday in mind. But in order to fit the band's recognizable style, he'd had to change them up from how he'd originally envisioned them, and so now he had the chance to change them back.
"I tried to flip them and do them the way I had intended to do them," he says. "I wanted to go in a very, very different direction. Taking Back Sunday was fun, but it didn't satisfy my musical soul."
TBS: Very Funny
When Fazzi says Taking Back Sunday was fun, one has to think he's being generous, as "fun" isn't an adjective that's been connected to the post-Blink-182 band for quite some time. Endless drama, yes, revolving-door membership, yes, bitter departures, yes—but fun, not so much. It seems to have been like that pretty much since the beginning for the Long Island band, who came together in 1999 but had blown through their original vocalist and most of their lineup by the time their debut album spawned the hit "You're So Last Summer" (with a popular video that featured Flava Flav somewhat lamely lip-syncing with the band).
By the time Fazzi joined, Taking Back Sunday was on a major label, with 2006's Louder Now selling almost a million copies. He replaced guitarist Fred Mascherino, who later famously commented that "the band was more about cooking food than making music." For their 2008 album New Again, Fazzi brought a bunch of new ideas, adding heaviness and depth to what had become a formula sound. The album got generally great reviews—Alternative Press called it "what modern rock should sound like"—but despite selling 48,000 copies its first week, it didn't match the sales numbers of its predecessor. This was straight-up business, and somebody had to take the fall. It turned out to be Fazzi. "I started out as a really positive thing in the band. They were giving me a lot of space to take it in a different direction," he says. "It ended up turning into them blaming me for the 'failure' of the record, because it didn't sell 500,000 copies."
Like Mascherino, Fazzi ultimately felt that the other members barely cared about the music anymore.
"For me, it was the quintessential major label experience," he says. "They cared more about the peripheral things. You're supposed to make good music."
After getting sacked, Fazzi dove into Happy Body Slow Brain. The resulting songs are far more intricate musically than anything he's done before. Though there are recognizable similarities to New Again ("I'm proud of that record," he says), especially on straight-ahead rockers like "Emperor" and "The Bridge," the overall sound of his new record is a surprise—ambient and drenched in keyboards, it's as progressive and dynamic as Taking Back Sunday is static.
Happy Body Slow Brain has also given Fazzi the chance to show his talents as a lead vocalist. He's found receptive audiences on the road, many of whom are Taking Back Sunday fans who liked New Again, and he's gratified by the response.
"I knew I was making something drastically different than Taking Back Sunday. I didn't know what people would think, and I'm my own worst critic," he says. "But I try to keep my expectations realistic. Ultimately all I care about is making quality music."
HAPPY BODY SLOW BRAIN
Saturday, 9pm
Homestead Lanes, Santa Clara
$7